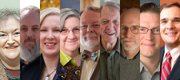 Stay informed on the race for Lawrence school board in our special elections section. Read stories, participate in live chats, watch candidate videos, vote in our straw poll and use the candidate selector to help you find out which candidates get your vote on April 5.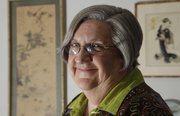 Ola Faucher is nothing if not methodical. Precise. Determined.
And she's certainly ready, willing and able to infuse her approach into leadership at the Lawrence school district, where budget cuts continue to mount and the community's concerns show no sign of abating.
"Budget cuts are never easy," said Faucher, one of nine candidates campaigning for four available seats on the Lawrence school board. "What I would bring is a set of principles that I think are helpful when dealing with budget cuts. …
"These principles I have seen enacted, in an organizational setting. They are principles I have experience with and could bring to the process."
Faucher figures her approach forged through experience — she's endured and helped enact "four or five major budget cuts" during her 38 years at Kansas University, where she is director of human resources and equal opportunity — could help guide the district during its ongoing budget challenges.
District officials are expecting a budget for next year that could start with $3 million less than approved a year earlier, continuing a string of cuts during the past several years that administrators and current board members don't foresee easing anytime soon.
Faucher considers such expectations with a matter-of-fact approach, the kind that comes with overseeing benefits, wages, recruitment, labor relations and training for 10,000 employees on KU's main campus and the Edwards Campus in Overland Park.
"I have some experience in handling budget cutbacks, and I'm very interested in preserving quality education in that process," she said. "Long term, I have a career commitment to the educational process and to the community."
Among the principles Faucher said she would use in addressing the district's budget needs:
• Transparency. Examine all options for saving money, not just closing or consolidating schools. "The first thing is to make sure that all options are being considered."
• Communication. Everyone in the district should know what the issues are, what the budget's condition is and what plans are envisioned for the future.
• Collaboration. All stakeholders in the district need to be included in any efforts to provide input for decisionmakers. That's especially true for teachers and principals. "The people who are closest to the work are often the ones who know best how to cut effectively and preserve quality."
• Inclusion. All aspects of the budget should be examined for savings, including so-called "sacred cows" such as athletics and extracurricular programming. "I want to look at the districtwide budget. I wouldn't limit it to elementary school closings and consolidations. We need to look at sacred cows, whatever those might be. We need to look at administration. And, above all, we need to preserve the amount of money per kid, per classroom."
Faucher also wants to strengthen liaisons with the Lawrence City Commission and a variety of business partners, to find ways to properly examine issues related to changing boundaries and potential school closings to "fit the short-term budget crisis into a long-term picture."
Faucher finds talk of an upcoming bond issue — one that would be expected to address renovations, expansions and potential construction of new elementary schools — a bit frustrating, even when officials note that the district's property-tax rate would be expected to hold steady or even decrease, considering other bond issues going off the books in the next several years.
"For the common voter, it's very difficult for them to understand that you're going to close schools to save money, and then issue bonds to collect money in a different bucket," she said. "That kind of logic isn't very intuitive. … Money is made available based on different choices and priorities, and I think we need to carefully consider our choices and priorities."
Faucher has lived in Lawrence since 1967, when she came to KU as an undergraduate. She received a bachelor's degree in English and French — "I thought I was going to grow up and be a professor" — before going on to earn a master's in public administration in 1988.
Not that it affected her decision to run, but Faucher has followed the board career of incumbent board member Mary Loveland, who is not seeking re-election.
"I went to school with Mary," Faucher said. "We lived in Watkins Scholarship Hall together."
Faucher has had three children educated in the district: two daughters, who graduated from Lawrence High School, and a son, who graduated from Free State High School.
She's interested in seeing that those in the system now, and those who will enroll during the years ahead, can take advantage of the benefits of education — the benefits she now sees each and every day at work, atop Mount Oread.
"The business of education is to make peoples' minds open and to have them experience the world in a different way," Faucher said. "It's a very energizing thing to experience."
Copyright 2018 The Lawrence Journal-World. All rights reserved. This material may not be published, broadcast, rewritten or redistributed. We strive to uphold our values for every story published.