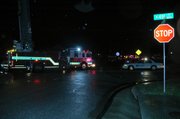 Emergency crews Saturday responded to a reported structure fire in the 400 block of Minnesota Street.
According to Lawrence-Douglas County Fire Medical Battalion Chief Bill Stark, the fire was reported about 7:45 p.m. for a two-story residential building in the area. The caller advised there was smoke in the building and emergency crews confirmed flames were showing when they arrived on scene. Traffic in the area was blocked.
Within 15 minutes of arrival, the fire was under control and units on scene gave the all clear.
Stark said a family of two adults and two children were displaced by the fire but residents of the three other apartment units were allowed to return. He also said the crews were investigating the scene for a possible cause and damage was not believed to be structural.
Stark said the Red Cross had been contacted to assist those displaced.
No further information regarding the amount of damage or cause of the fire was immediately available.
Copyright 2018 The Lawrence Journal-World. All rights reserved. This material may not be published, broadcast, rewritten or redistributed. We strive to uphold our values for every story published.