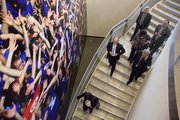 As five Armenian police leaders followed Brad Nachtigal into Memorial Stadium on Friday afternoon, they suddenly stopped to examine the artificial FieldTurf surface.
It was not grass, and was unfamiliar territory for the delegation visiting Lawrence.
"This is rubber, rubber pellets," said Nachtigal, a Kansas University associate athletic director, as the members of the delegation crowded around him.
The Armenian officers on the final leg of their recent visit to Kansas cities were here to learn from the Lawrence Police Department about community initiatives, such as the use of neighborhood resource officers and school resource officers.
"In Kansas, we've discussed ways in which they are involved in community policing," Armenian police Col. Karen Mehrabyan said through an interpreter. "And besides being involved in studying community policing, we've been involved in studying the entire police system."
Since March 8, the delegation, which visited the state through the Kansas National Guard's state partnership program, has met with police departments in Kansas City, Kan., Overland Park, Wichita and Park City and toured the Kansas Law Enforcement Training Center in Hutchinson, a unit of KU's continuing education program.
Lawrence police Capt. Paul Fellers and other officers and staff members gave presentations to the Armenian officers Friday about the department's community service initiatives and day-to-day operations.
They also drove the delegation around Lawrence and the KU campus. One stop included Nachtigal's tour of the Anderson Family Football Complex and Memorial Stadium. The Armenian officers often asked Nachtigal about how American football compares to rugby or soccer, but they also had questions about how KU and Lawrence police provide security for games.
To Mehrabyan, Memorial Stadium was "impressive." He said Armenia has an interest in building more sports facilities to keep young people engaged in sports activities and off the streets where they can get into trouble.
"We're doing the same things in different parts of the world, so it is interesting to have this exchange," said Fellers, who oversees Lawrence police's community services division.
Mehrabyan said the officers hope to take what they think will be applicable in Kansas back to Armenia.
"At this point we have a main goal to have interaction between the police and the community," he said.
Copyright 2018 The Lawrence Journal-World. All rights reserved. This material may not be published, broadcast, rewritten or redistributed. We strive to uphold our values for every story published.