Photo Gallery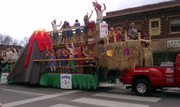 St. Patrick's Day 2011
Zoey Russtiell and her cousin Cadence Healrd got to spend a day of their spring break watching green horses, flash mobs and floats covered with aliens and hula dancers.
It's all standard for a St. Patrick's Day Parade. The girls were among thousands of Lawrence and area residents dressed in green who poured into downtown in 70-degree weather for the annual event.
This year's parade was the culmination of months of fundraising to benefit three local charities that help children: Cooper's Cause Foundation, Imagine Drop-In Childcare and Junior Achievement.
Many attendees were children from area schools, including Eudora, who were on spring break this week. Lawrence school district's spring break is next week.
Zoey, 6, who was in town from Eudora with Cadence, 7, of Raytown, Mo., best liked the three horses dyed green.
But Cadence disagreed. "When they had all the band go by," she said.
A typical marching band was in the parade, as well as a group from Americana Music Academy, a bagpipe band and a rock band. Ferris Bueller even made an appearance on a float decorated similar to his in the 1986 movie "Ferris Bueller's Day Off."
People dressed as Free State beer bottles danced to Stevie Wonder music, while motorcyclists dressed as aliens rode to "Rocket Man."
Jonah Hoke, 4, admired the variety of vehicles at this year's parade. Jonah, of Lawrence, particularly liked a brown classic car.
"It had cool wheels," he said.
The event was a family affair, with many people introducing young children to the parade scene. Amy Brown, who now lives in Eudora, grew up in Lawrence and brought her daughter Katie, 2, to the parade. She remembers attending the parade years ago if the weather was nice.
"When I was a kid we used to come out," she said.
Copyright 2018 The Lawrence Journal-World. All rights reserved. This material may not be published, broadcast, rewritten or redistributed. We strive to uphold our values for every story published.