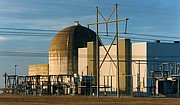 Wolf Creek nuclear power plant officials said Monday that they are watching developments in Japan closely to see whether lessons can be learned from the plant disasters occurring there.
"We are closely monitoring it as an industry," said Jenny Hageman, spokeswoman for the Wolf Creek plant, a 1,200-megawatt facility 52 miles south of Lawrence.
Japanese officials are dealing with crises at several nuclear plants in the wake of the country's earthquake and tsunami that have left at least 10,000 dead.
Hageman said U.S. nuclear power officials are offering to help Japan.
She said the chance of an earthquake affecting Wolf Creek is much smaller than in Japan. Tornadoes would be the more likely disaster to hit the plant, and Hageman said Wolf Creek's containment structure can withstand winds of 300 mph.
Wolf Creek is running at 100 percent capacity but will be shut down on Saturday for about seven weeks for scheduled maintenance, which will include the replacement of four giant rotors and turbines. This operation constitutes the largest modification of the plant since it started operating in 1985, she said.
Michael Murray, a nuclear physicist at Kansas University, said Japanese officials are trying their hardest to address the problems, but they face great obstacles.
"The crucial thing at the moment is that the fuel rods be kept under water," Murray said. "The problem they are having is that the general level of devastation from the tsunami" has hindered their efforts.
Murray said there is no evidence of a rupture in the containment cases at these units.
"What needs to happen now is make sure there is not enough buildup of steam or hydrogen to crack the containment vessel," he said.
Copyright 2018 The Lawrence Journal-World. All rights reserved. This material may not be published, broadcast, rewritten or redistributed. We strive to uphold our values for every story published.