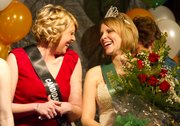 St. Patrick's Day Parade
The Lawrence St. Patrick's Day Parade will begin at 1 p.m. Thursday at South Park. It will travel up Massachusetts Street and cross the bridge into North Lawrence. Massachusetts Street will be closed from 11th to 14th streets beginning at noon to accommodate the parade. T routes will also be affected by the parade. See the reroutes at lawrencetransit.org.
Lacey Henry has never worked as hard in her life as she has in the last few months.
That's because she's been raising money for the charities benefiting from this year's St. Patrick's Day Parade, and she's pretty good at it. Deb Drummet, co-chairwoman of the parade committee, said Henry sold $600 worth of T-shirts in 20 minutes at an event.
And now Henry is being recognized for the help she's given the charities. She was crowned queen of this year's St. Patrick's Day parade Sunday night at the Flamingo Club, 501 N. Ninth St.
Henry, 22, was one of three candidates for this year's crown, which recognizes the women who help raise thousands of dollars for the charities that benefit from the parade. This year's charities all help children: Cooper's Cause Foundation, Imagine Drop-In Childcare and Junior Achievement. Toys for Tots, which also helps children, was the charity that started Henry fundraising in the first place.
"I'm kind of becoming a charity junkie," she said. "It's just so rewarding."
The crowning is one of many events leading up to Thursday's parade, which starts at South Park at 1 p.m.
Organizers of the parade are focusing on safety this year. Mik Shanks, logistics co-chairman of the parade, said he wants Lawrence residents to be aware of the parade's route and to make sure children stay off the road.
"We've seen that happen with other parades in other cities," Shanks said. "We're trying to get ahead of the curve."
Drummet said the other queen candidates, Erin Taylor, 34, and Katie Keeler, 29, had also been incredibly helpful to the parade's cause.
"All three have done the work of about 30 people," she said.
Also recognized Sunday evening were the parade's grand marshal, former Lawrence Police Chief Ron Olin, and the senior king and queen, Fairley and Donna McCain.
Copyright 2018 The Lawrence Journal-World. All rights reserved. This material may not be published, broadcast, rewritten or redistributed. We strive to uphold our values for every story published.