Photo Gallery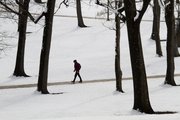 March snowstorm greets Lawrence residents
A few inches of wet snow fell in Lawrence Monday, March 14, 2011.
Kansas weather updates, via Twitter
12:02 p.m. update
The NWS has allowed the winter weather advisory for Douglas County to expire. Areas of dense fog may be possible Monday night. Look for highs in the 60s and 70s later this week.
9:57 a.m. update
The NWS has extended the winter weather advisory for Douglas County until noon Monday. Jefferson and Osage counties are also included in the winter weather advisory extension.
Additional snow accumulations of another half inch are possible before noon.
9:35 a.m. update
A National Weather Service spotter reported snowfall accumulation of two inches in Lecompton as of 9:32 a.m. Snowfall is expected to taper off by late Monday morning. Monday's forecast predicts a high temperature of 40 degrees in Lawrence.
5:51 a.m. update
Light snow will continue to fall Monday morning. An additional 1-2 inches of accumulation is expected before snowfall comes to an end about 10 a.m.
The Kansas Department of Transportation is reporting that all highways in Douglas County are at the "wet/slush" status. Drivers should still be prepared for slick roads during Monday morning's commute, though highways are not snowpacked.
The winter weather advisory for Douglas County is set to expire at 10 a.m.
8:42 p.m. update
The NWS has updated snow accumulation totals to 3 to 6 inches for the area. Winds are expected to blow from the north from 5 to 15 miles per hour.
7:07 p.m. update
The NWS has issued a winter weather advisory for Douglas County effective until 10 a.m. Monday.
Rain will turn into snow between 10 a.m. Sunday and 4 a.m. Monday. Some thunder is possible. The chance of snowfall is 90 percent with accumulations of 1-3 inches expected by 10 a.m. Monday.
11:19 a.m. update
The National Weather Service is forecasting a possible 1 to 2 inches of snow Sunday night in the area.
Rain is possible today after 1 p.m., and then snow is expected to fall this evening. Chance of precipitation during the day is 40 percent, but increases to 70 percent Sunday night.
A winter weather advisory has been issued for counties to the east of Lawrence, such as Leavenworth, Johnson and Wyandotte, but not for Douglas County. The NWS said the counties under the advisory could receive up to four inches by Monday morning.
Check LJWorld.com for updates.
Copyright 2018 The Lawrence Journal-World. All rights reserved. This material may not be published, broadcast, rewritten or redistributed. We strive to uphold our values for every story published.