Although I'm no longer a student, the words spring break still sound like bliss — I almost feel anxious for an entire week of freedom myself! If you have a spring break, a beach vacation or weekend getaway approaching, you will want to be prepared with the perfect beach gear and swimwear. If not, don't worry. Summer is just around the corner, and Clinton Lake is just a quick drive across town!
Tropical Print:
For the perfect beach bikini, pick out a swimming suit that has a carefree pattern. Sunset motifs and fruity prints — watermelons, strawberries, and bananas — are fun, lighthearted and in style. Best of all, you can pick your favorite swimwear cut. If you're wearing such a tropical-inspired pattern, you can't go wrong.
One-piece Swimsuit:
Pick out a retro-inspired one-piece for a sexy, flattering fit. Look for a suit with ruching down the center — the repetitive pleats create a slimming effect. Also, try a one-piece swimsuit with halter straps; this reveals the collar bones and shoulders and exposes just the right amount of skin.
High-Waisted Cut:
For another retro-inspired swimwear trend, check out bikinis that feature high-waisted bottoms. This cut is also figure-friendly, raising the waistline to define you at your narrowest point. To amp up the retro effect, pick a suit with a built-in skirt, or choose a suit with a bandeau-style top to achieve a classic, Brigitte Bardot-inspired look.
Monochrome Color: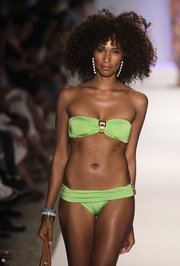 Monochrome bikinis are the most versatile of all swimsuit styles. Pick out single-color swimming suits in classic cuts. Your suit will look elegant, not overworked or overdesigned. Plus, if you get bored with the plain color of your suit, it will be simple to mix and match different patterned bikini tops and bottoms for a brand new look. I look forward to styling my swimwear with different separates each swim season, and it is especially beneficial when you find the perfect top or bottom at the store but realize its match has been sold!
Details and Accessories:
Because there are endless in-style swimwear options available this season, my ultimate advice is this: Go with your gut. Cut-outs? Ruffles? Cheetah print? Go for it. Any swimsuit worn by a woman with confidence is decidedly the right suit for her. And my fallback advice? When in doubt, consult your mother. Trust me, she's been perfecting the art of delicately delivering honest advice for years.
Copyright 2018 The Lawrence Journal-World. All rights reserved. This material may not be published, broadcast, rewritten or redistributed. We strive to uphold our values for every story published.