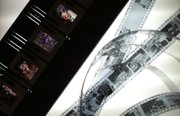 My last column revealed the discovery of some historic color photographs of U.S. presidents at a Lawrence thrift store. The photos are similar to ones in the collection at the Truman Presidential Library in Independence, Mo., with one notable exception — they are in color. I contacted Pauline Testerman, audiovisual archivist at the Truman Library, with the information. Despite the collection's lack of documentation, she said the library would certainly be interested in the photographs.
"We would accept them and hope to get as much information about them as possible," says Testerman, "but it's not always possible to have information on things like this."
Apparently, lack of documentation is common with many donations to libraries and museums. The more important concern is how many valuable photographs are thrown away or lost simply because people don't know what to do with their collections.
Let's face it, a lot of us probably have hundreds of photographs in our house. They may not be presidential material, but to archivists and historians, they can be valuable historic documents.
Sherry Williams, curator of collections at KU's Spencer Research Library, which maintains a collection of more than 2 million historical photographs, encourages people to consider donating items for research and study.
"Our own photographs, of ourselves and family, have an immediate value and importance that, over time, and without someone to carry on the interest in the legacy, can diminish," Williams says. "Yet these same photographs can provide researchers with much information about community, the local landscape, the times, events, dress and social customs."
Here are some recommendations for handling a collection of family photographs or documents that you have inherited or found.
Older negatives, slides and prints can be digitally scanned and stored on DVD discs or hard drives. This makes it easy to create digital copies to disperse to family members. For the do-it-yourself method, this requires a scanner and computer. You can also find photo labs that will provide this service.
Make arrangements to pass your photographs to family members who have an interest in maintaining the collection.
If there is no one to inherit your photographs, consider their subject content and locate an appropriate depository. KU's Spencer Research Library and Watkins Community Museum of History are two local repositories.
Copyright 2018 The Lawrence Journal-World. All rights reserved. This material may not be published, broadcast, rewritten or redistributed. We strive to uphold our values for every story published.