Photo Gallery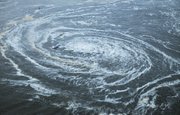 Tsunami hits Japan
A massive tsunami spawned by the largest earthquake in Japan's recorded history slammed the eastern coast Friday, sweeping away boats, cars, homes and people as widespread fires burned out of control. Tsunami warnings blanketed the entire Pacific, as far away as South America, Canada, Alaska and the entire U.S. West Coast.
A tsunami that wreaked havoc in Japan after a magnitude-8.9 earthquake didn't have much of an impact on Hawaii, said a retired Kansas University professor vacationing there.
Rick Musser, who retired from KU's journalism faculty in 2008, watched the news overnight from his hotel in Lahaina on the island of Maui.
Though guests on the hotel's ground floor were moved to upper floors of the hotel and tsunami sirens sounded, Musser said he didn't see any major damage from his hotel window or on the television news. He said it was basically a "nonevent."
"In the rooms, it's been a reasonably quiet night," Musser said.
As of about 7:30 a.m. Hawaii time Friday (11:30 a.m. CST), authorities had not yet sounded an all-clear, but Musser said he saw hotel employees preparing to serve breakfast on the patio, and tourists were beginning to walk around on the streets.
KU has 10 students studying abroad in Japan, said Jill Jess, a KU spokeswoman. Nine of those are in Tokyo, and the university had made contact with all of them and confirm they were safe.
The other KU student is in Osaka, Japan. The university had not yet made contact with the student as of Friday morning, but had contacted the school where the student is studying.
Osaka avoided major tsunami damage, and Jess said that there was no reason to believe the student studying there was in any danger. Osaka is southwest of Tokyo; the earthquake's epicenter was about 200 miles north of the Japanese capital.
Sister city
Lawrence's sister city of Hiratsuka, Japan, sits more than 200 miles south of the earthquake's epicenter. Cathy Hilliard, whose husband, James, serves on the Sister Cities Advisory Board, said Friday their contacts in Japan had let them know they were OK. Hilliard said she was still waiting to hear from friends living about a half-mile from the coast.
Bob Moody, a board member, said he e-mailed friends in the area and as of Friday evening had received one response.
"That's a little cause for concern," he said.
Moody said the family that contacted him was OK, though many in the city were understandably shaken. Phone lines, electricity and traffic signals were just a few things reportedly disabled by the earthquake. Some students couldn't get home because of the traffic issues.
"I wouldn't want to be there," he said. "It's just a mess."
Moody said more information would likely be available as daylight hits the city. Hiratsuka is 13 hours ahead of Lawrence.
Copyright 2018 The Lawrence Journal-World. All rights reserved. This material may not be published, broadcast, rewritten or redistributed. We strive to uphold our values for every story published.