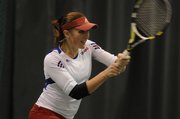 Kansas University's tennis team recorded its first sweep of the season with a 7-0 rout of UMKC on Wednesday afternoon at the Jayhawk Tennis Center.
The Jayhawks played strong from start to finish, beginning the match with a 2-for-3 performance in doubles.
Paulina Los and Victoria Khanevskaya easily downed Jessica Ball and Gabby Pintos, 8-1, to start the Jayhawks off with a win. Ekaterina Morozova and Dylan Windom then took the doubles point for KU with an 8-5 victory.
Laura Bouet and Suzan Lisenby were the only UMKC pair to earn a doubles win, taking it down to the wire, defeating Amy Barnthouse and Erin Wilbert, 9-7.
In singles play, Los extended her win streak to four with a 6-0, 6-1 defeat of Bouet. Khanevskaya easily disposed of Jillian Yakomich, 6-3, 6-0. Morozova followed with another easy victory over Eva Dalvai, which clinched the match for KU.
After Windom downed Lisenby in the No. 4 position, Wilbert fought off Chelsea Horner in the second set of the No. 3 singles match.
In the final singles match, KU's Barnthouse went up by one set before Ball fought back in the second. The two battled back and forth, with Ball forcing a tiebreaker. But Barnthouse never trailed in the tiebreaker, winning it 6-3, capturing the sixth-singles match with a 6-0, 7-6 (3) victory.
Kansas moved to 6-4 with the victory.
Copyright 2018 The Lawrence Journal-World. All rights reserved. This material may not be published, broadcast, rewritten or redistributed. We strive to uphold our values for every story published.