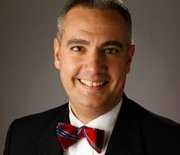 Kansas University has hired an associate dean at Vanderbilt University's Peabody School of Education and Human Development as its new vice chancellor for public affairs.
Tim Caboni, when reached Thursday morning, was just getting ready to use Twitter to inform his followers of his new position.
"I'm just thrilled and honored," he said.
Caboni will report to Chancellor Bernadette Gray-Little, and will oversee the directors of university communications, federal governmental relations and state governmental relations, which all previously reported to the chancellor.
He said he anticipated that he would be able to draw upon some of the same skills he used at Vanderbilt to help KU.
"There's a story to be told that's not being broadcast widely," and can be told more broadly in Lawrence, the state, across the nation and world, he said.
He said that while he has been pleased to have been part of the success of the nation's top-ranked graduate education school, he hoped to help KU achieve new success.
"Tim believes in institutional transformation because he's been a part of it at Peabody," Gray-Little said in a statement. "With his energy and eagerness to join the Jayhawk family, I know he'll be successful in helping us raise KU's stature here and around the world."
Caboni will make $207,000 in the position.
The last person to hold the job, Paul Carttar, had a salary of $202,000 in 2006, when the job was reorganized out of existence.
Copyright 2018 The Lawrence Journal-World. All rights reserved. This material may not be published, broadcast, rewritten or redistributed. We strive to uphold our values for every story published.