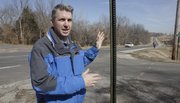 On the street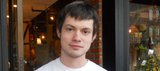 Yeah, 45 on Mass. Street. I was late to work.
An Overland Park man's successful fight against a speeding ticket in Eudora Municipal Court has exposed an oddity on the city's eastern boundary near a new elementary school.
And city and police officials say they are acting to correct an honest mistake that centers on a quarter-mile section of County Road 442 — also East 10th Street — that was never annexed into the city, even though portions of the road to the east were.
Eudora Municipal Court Judge Randy McCalla last month dismissed a speeding ticket against Andrew Koepke because McCalla said municipal court did not have jurisdiction to enforce the ticket. Koepke raised the issue — and several others because he says he wasn't speeding — at a February trial.
County maps Koepke found show the portion of East 10th Street as it leaves Eudora just east of Ash Street is not in the city limits. But farther to the east, the area from Peach Street all the way to Kansas Highway 10, including the new Eudora Elementary School, is in the city limits.
It's on the portion of the road that's in the county where Koepke says he was pulled over Aug. 27.
Koepke was driving west heading into Eudora, was stopped by a police officer and told he was driving 50 mph in a 30 mph zone. Koepke says the stop took place while he was still in the county.
"The officer didn't know where he was allowed to enforce the law. For how many years have they been collecting money illegally?" Koepke said.
City leaders contend a mistake was made by the previous city administration a few years ago. Police officers had been told the road was within the city. Officials also denied that tickets were issued for monetary gain.
"That is absolutely false. Our police department does not issue tickets for revenue," said City Administrator John Harrenstein, who was hired in October 2009. "They issue tickets to maintain safety."
Eudora Police Chief Grady Walker, who was hired a year ago, said the department was operating under information city hall had given it three years ago: That the city's boundary stopped north of the road and not to the south.
"It was a bubble," Walker said.
He said Eudora has an agreement in the works with the Douglas County Sheriff's office to give his officers permission to patrol that section of County Road 442, even though it's not the city. Tickets would have to be written through Douglas County District Court, though, Walker said.
Koepke said the situation still baffles him, and he wonders how many other people paid their tickets without contesting them, even though the municipal court might not have had jurisdiction. After the dismissal, the city returned Koepke's $90 fine and $60 court fee.
"If you'd gotten a ticket, wouldn't you like your money back?" he said.
Jeff Heiman, Eudora's city prosecutor since 2005, said Koepke's case was the first he can recall in which the jurisdiction issue was brought up. But he said many cases are handled without a trial, either through dismissals or a no-contest plea. He also said generally there's a time limit — such as 10 to 14 days — when someone can file an appeal.
Harrenstein said the city wants to ensure the area can be patrolled.
"In one sense, we'd like to thank the individual for bringing forward the issue," Harrenstein said, "so we can rectify it and ensure that there's good governance going on."
Copyright 2018 The Lawrence Journal-World. All rights reserved. This material may not be published, broadcast, rewritten or redistributed. We strive to uphold our values for every story published.