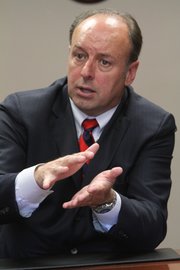 Aptera CEO Paul Wilbur
Embrace technology and start creating.
That is the message that Paul Wilbur, CEO of the California-based electric car company Aptera, gave to students Thursday at Kansas University.
Wilbur, a KU business school graduate who spent 26 years with the country's largest car manufacturers, is now overseeing an operation that aims to make the Honda equivalent of the electric car — a vehicle that's reliable and affordable.
Among the models is a three-wheel, two-door, tadpole-looking car that is intended to turn heads.
"It's pretty dramatic," Wilbur said. "It's a statement for those who see it. It's also a shock. But we want to signal to people that there is a new world coming."
The company also has a more conventional-looking four-door electric car and an electric hybrid. The company's cars can get 200 miles per gallon.
The company's trademark is the composite material used to make the vehicle. Although lightweight, it can still withstand crashes into concrete walls at high speeds.
The process and materials are shrouded in patents.
"We are designing what is the pinnacle of efficiency in the market place," he said.
Wilbur, who once was general manager of Chrysler's Jeep and Dodge, said that small companies like Aptera will provide the spark large car manufacturers will need to design electric cars.
As for Aptera, the company is in the pre-production stages as it works to raise capital for production. When it does, the cars will be first sold in California.
The price point for the vehicles is in the $20,000 to $40,000 range, a cost that is expected to compete with other mid-range-price vehicles.
The biggest indicator for success in the electric-car market is gas prices. If they continue to rise to the $4 and $4.50 mark, Wilbur said, cars like the ones Aptera are working on will become a lot more popular.
Copyright 2018 The Lawrence Journal-World. All rights reserved. This material may not be published, broadcast, rewritten or redistributed. We strive to uphold our values for every story published.