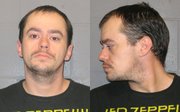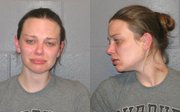 Lawrence police detectives early Wednesday arrested a couple wanted in the 2009 death of their young daughter in Tennessee, prosecutors and police said.
According to Douglas County Jail records, officers arrested Ryan Lee Robert Davis, 34, and Larissa Renee Davis, 23, around midnight on warrants out of Sullivan County in Tennessee.
Julie Canter, a Sullivan County assistant district attorney, said a Tennessee grand jury indicted them both Tuesday on charges of first-degree murder, aggravated child abuse and aggravated child neglect.
Canter said the two are accused in connection with the death of their daughter, Izabel Davis, who was less than 1 year old and died at a Tennessee hospital Nov. 6, 2009. Sullivan County Sheriff's officers had been investigating the girl's death for more than a year.
"The investigation was ongoing, and the charges were not brought until yesterday," Canter said.
She said prosecutors could not provide additional details about the case.
Sgt. Matt Sarna, a Lawrence police spokesman, said an outside agency Tuesday asked for officers to assist in finding the couple. They were arrested without incident at the Howard Johnson hotel, 2222 W. Sixth St.
Jail records list a North Lawrence address for Ryan Davis, and Larissa Davis as a Lawrence transient. Canter said the couple in the past had resided in Kingsport, Tenn.
Sarna said the Douglas County Sheriff's office assisted police in helping them locate the couple. Sarna also said the suspects do have ties to the Lawrence area and were not believed to be running from authorities.
Sullivan County Sheriff's officials contacted the Douglas County Sheriff's office in February of 2010 and asked for assistance in locating Ryan and Larissa Davis, said Steve Lewis, a Douglas County Sheriff's spokesman.
Douglas County District Attorney Charles Branson said the couple likely won't appear before a judge in district court here until Thursday afternoon.
In Douglas County District Court, the couple would have to choose whether to contest or waive their extradition to Tennessee to begin the legal process there.
Copyright 2018 The Lawrence Journal-World. All rights reserved. This material may not be published, broadcast, rewritten or redistributed. We strive to uphold our values for every story published.