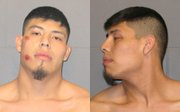 Lawrence police used spike strips to help apprehend a Lawrence man who led officers in a pursuit near downtown just after 3 a.m. Wednesday.
Douglas County prosecutors filed a felony charge of attempting to elude officers plus four misdemeanor charges, including DUI and battery of a law enforcement officer against Ryan W. Masquas, 21.
Sgt. Damon Thomas said officers responded to a disturbance at Haskell Indian Nations University about 3 a.m. When officers arrived, a male driver fled in a car.
Officers chased the car down Massachusetts Street, in the area of the Kansas University campus and through Oread neighborhood before deploying spike strips, Thomas said.
After hitting the spike strips, the car went into West Hills apartment complex in the 1000 block of Emery Road where the driver fled the vehicle. Officers apprehended Masquas after a short foot chase.
Thomas said no one was injured during the chase. A judge Wednesday set Masquas' bond at $4,000 cash or surety and scheduled a hearing for March 16.
Copyright 2018 The Lawrence Journal-World. All rights reserved. This material may not be published, broadcast, rewritten or redistributed. We strive to uphold our values for every story published.