Parsnips
What they are: For comparison's sake, parsnips resemble bleached-out carrots. Like carrots, parsnips are sweet, especially after a frost when their starches are converted to sugars. They have been cultivated since ancient times, and were brought to the US by Europeans in the 1600s. Since then, they've become less common in the kitchen as its now easy for modern-day eaters to enjoy once-rare sweets. Parsnips do look like parsley root, but parsley root is missing the parsnip's sweetness.
Season: Parsnips are available year-round. Locally grown parsnips are available late fall through winter.
Nutrition: One cup of sliced raw parsnip has 100 calories, no fat, 7 grams of fiber, 6 grams of sugar and 38 percent of your daily vitamin C according to nutritiondata.com.
How to pick: Go for large, squat parsnips for sweetness. Parsnips that are long and lean tend to be stringy. Also avoid signs of sprouting, ones that are pock-marked or limp.
How to store: Wrap parsnips in paper towels, place them inside of a plastic bag and put them in the coldest, most moist part of your fridge for up to a month according to Aliza Green's "Field Guide to Produce."
What do I do with ...?
Got a food the intimidates you? We'd love to hear what foods you'd like to know more about. E-mail Sarah Henning at shenning@ljworld.com.
Next food up? Lemongrass.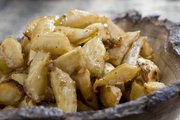 Once upon a time, far, far away, the parsnip was a vegetable king, prized for its difficult-to-find sweetness.
It was loved, cultivated and even gently stowed as Europeans crossed the oceans and planted in the Americas.
And ... that's where this tale turns into a backwards telling of "The Ugly Duckling."
Rather than going from a metaphorical unwanted bird into a beautiful swan, this swan turned out to be less desirable than the sweeter vegetables discovered in the New World, most notably corn.
"I think people have gotten used to eating vegetables that have a higher sugar content, and the ultimate vegetable there is corn," says Nancy O'Connor, director of education and outreach at The Merc, 901 S. Iowa. "And those stronger vegetables, all the things in the broccoli and cauliflower family and things like turnips and parsnips, they're just more of a 'stand up and shout out their flavor' kind of vegetable."
When looking at parsnips in the store, if they shout anything to the untrained eye, it might just be "ivory carrot." The vegetable does have quite the likeness to its more popular cousin, and like the carrot, the parsnip is high in vitamin A.
And, like those popular orange veggies, you want to pick ones that aren't shriveled or weak says Wes Nellis, produce supervisor for Checkers Foods, 2300 La.
"They're kind of like a carrot, you know? Basically, you look for a firm parsnip that's not limp," he says, before checking a large book full of factiods about each of the many fruits and vegetables the grocer carries. "Small to medium-sized parsnips are usually the best quality. Provided they are firm and well-shaped and they should be free of straggly rootlets and fairly smooth."
O'Connor says that once you find just the right parsnips, the best way for a novice to eat them is very simply.
"Roasting has a way of transforming vegetables," says O'Connor, who adds that you could do half parsnips, half carrots because they cook in the same amount of time. "And with parsnips you could just peel them and cut them on the diagonal in thick slices and toss them with olive oil and salt and just roast them in a hot oven, like 400 degrees, until they're tender and slightly caramelized.
"That tends to bring out more of the sugars in the vegetable and I think it has a way of taming even strong vegetables."
Recipes
Maple-Garlic Roasted Parsnips
2 pounds parsnips, peeled and cut into 1-inch pieces
4 cloves garlic, chopped
1 1/4 teaspoons salt
3 tablespoons maple syrup, or more to taste
1 tablespoon olive oil
1 teaspoon ground black pepper
2 tablespoons granulated maple sugar
Heat the oven to 350 degrees. Line a rimmed baking sheet with parchment paper.
In a large bowl, combine the parsnips, garlic, salt, maple syrup and oil. Toss well to coat, then transfer to the prepared baking sheet, arranging the parsnips in an even layer. Bake 45 minutes, or until tender and starting to brown. During roasting, stir the parsnips every 15 minutes for even browning.
In small bowl, mix together the black pepper and maple sugar. Sprinkle this over the parsnips, then return them to the oven for another 5 minutes.
Serves six to eight.
— Recipe from The Associated Press.
Mediterranean Lamb Stew with Parsnips, Roasted Chile and Carrots
2 pound lamb shanks
2 tablespoons olive oil
1 tablespoon garlic, crushed
1 tablespoon onion, diced
8 ounces roasted red bell peppers
1 tablespoon garlic and herbs mixture with sea salt
8 ounces tomatoes, diced
8 ounces parsnips, peeled and diced
4 ounces baby carrots, diced
1 1/4 cups vegetable stock
1 sprinkle salt and pepper to taste
Heat oil in pan over medium-high heat. Sear lamb shanks on all sides and set aside. Reduce heat to medium. Add onions, bell peppers and garlic. Sauté vegetables for 5 minutes. Return lamb shanks to pan. Add tomatoes, garlic and herb spice and vegetable stock. Bring to a boil, reduce heat, cover and simmer for 2 hours. Add parsnips and carrots. Continue cooking for 30 to 45 minutes or until vegetables are tender. Adjust seasoning with salt and pepper. Serve over rice.
— Recipe from www.melissas.com.
Paul's Parsnip Chips
1 pound parsnips, peeled and sliced thin
1 tablespoon olive oil or peanut oil
Salt (coarse grained)
Cracked black pepper
Preheat oven to 425 degrees. Spray a cookie sheet with cooking spray and set aside. Place parsnips or beets in a plastic bag, add oil, sprinkle with salt and pepper, seal bag, and shake until evenly coated. Spread on cookie sheet. Bake 1 hour, turning every 15 minutes. Remove any darkened ones early, since a few will cook faster. Serve immediately.
— Recipe from www.melissas.com.
Parsnip Whipped Potatoes
2 pounds potatoes (about 4 large potatoes), peeled, cut into 1-inch cubes
1 pound parsnips (about 4 medium parsnips), peeled, cut into 1-inch cubes
1 3/4 teaspoon salt, divided
1 container (8 ounces) sour cream
1/4 cup (1/2 stick) butter or margarine
1/4 teaspoon ground white pepper
Place potatoes, parsnips and 1 teaspoon of the salt in large saucepan. Add enough water to cover ingredients; cover pan. Bring to boil on high heat. Uncover; reduce heat to medium. Simmer 15 minutes or until potatoes are tender.
Drain potatoes and parsnips; return to saucepan. Add sour cream and butter. Mash lightly, leaving some of the potato and parsnip pieces in chunks.
Season with pepper and remaining 3/4 teaspoon salt.
— Recipe from www.kraftrecipes.com.
Parsnip and Apple Muffins
1 cup pecans
3 parsnips, peeled and grated (about 2 cups)
1 large apple, peeled, cored and grated
2 cups all-purpose flour
1 cup sugar
3/4 teaspoon baking soda
1 1/2 teaspoons baking powder
1/2 teaspoon salt
1 teaspoon ground ginger
1/2 teaspoon ground nutmeg
1 1/2 teaspoons ground cinnamon
1/2 cup golden raisins
2 large eggs
3/4 cup safflower or sunflower oil
1/2 cup milk or non-dairy substitute
1 1/2 teaspoons vanilla extract
Preheat oven to 350 degrees and place rack in center of oven. Line an (18-cup) muffin tin with paper cupcake liners and set aside.
Toast the pecans about 10 minutes or until lightly browned and fragrant. Let cool and then chop coarsely.
Combine parsnips and apple in a large bowl and set aside. In a second large bowl whisk together flour, sugar, baking soda, baking powder, salt, ginger, nutmeg and cinnamon. Stir in pecans and raisins. Set aside.
In a separate bowl whisk together eggs, oil, milk and vanilla extract. Fold egg mixture and parsnip mixture into flour mixture, stirring just until moistened and combined. Divide batter among the muffin cups and bake until deep golden brown and a toothpick inserted in the center of a muffin comes out clean, 20 to 25 minutes. Cool muffins on a wire rack.
— Recipe from www.wholefoodsmarket.com.
Chicken in a Pot
1 whole chicken, about 3 1/2 pounds
1 large yellow onion, halved and sliced
2 cloves garlic, peeled
4 celery ribs, peeled and cut into 2-inch pieces
4 large carrots, peeled and cut into 2-inch pieces
4 parsnips, peeled and cut into 2-inch pieces
8 small red potatoes, scrubbed and halved
8 cups low-sodium chicken or vegetable broth
8 sprigs parsley
2 bay leaves
1/4 teaspoon freshly ground black pepper
Remove inside packet of innards from chicken, if included, and discard or reserve for another use. Place chicken, onion, garlic, celery, carrots, beets and potatoes in a Dutch oven or stockpot large enough to hold the chicken and vegetables together. Add broth, 2 cups water, parsley, bay leaves and pepper. Bring to a simmer over medium-high heat.
Reduce heat to maintain a simmer and cook, uncovered, making sure the chicken is submerged (add more water if needed), for 45 to 50 minutes or until chicken is tender and juices run clear when pierced with a fork and vegetables are tender. Remove chicken from pot and set aside until cool enough to handle. Carve chicken into pieces and serve with vegetables and broth.
— Recipe from www.wholefoodsmarket.com.
Copyright 2018 The Lawrence Journal-World. All rights reserved. This material may not be published, broadcast, rewritten or redistributed. We strive to uphold our values for every story published.