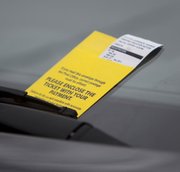 If you got a speeding or parking ticket in Lawrence in 2010, consider yourself unlucky.
The number of parking tickets issued at meters in Downtown Lawrence plummeted by 14 percent in 2010 — despite the city adding an hour to the amount of time motorists must pay the meter.
And the number of speeding tickets issued in Lawrence continued to be nearly 50 percent below the totals that the city was issuing just five years ago.
The reason?
"I don't think there has been a sudden outbreak of excellent driving behavior," City Manager David Corliss said Monday. "I think it is more related to our ability to enforce the traffic laws."
The city's police department was down about eight officer positions in 2010 because of retirements and staff turnover, Corliss said. That means the department's resources have been stretched thinner, allowing less time to be devoted to monitoring for speeding violations.
The city issued 5,312 speeding tickets in 2010, up slightly from 5,237 in 2009. But the ticket totals are well below the 8,071 speeding tickets issued in 2006. Until this year's slight increase, the number of speeding tickets issued had declined for three straight years. Corliss said the number of tickets probably will go up some as the department gets closer to full-staffing levels. Currently, the department is only two officers down.
The parking ticket numbers also are related to a staffing issue. Corliss said the city's staff of five parking control officers was down the equivalent of one position for much of the year because of several prolonged absences or resignations on the staff. Because the size of the staff is small, the loss of one position for a major part of the year reduced the number of tickets the staff was able to write, he said.
Plus, Corliss said he wasn't ruling out that some changes to the city's fine system had caused people to be more cognizant of plugging the meter. The City Commission in late 2009 increased the fine for overtime parking from $2 to $3 and increased the late payment fee for parking tickets from $10 to $15.
But the city also added one hour to the time period people must pay the meters — stretching it to 6 p.m. Monday through Saturday. That change likely would have produced a few more tickets.
One number that didn't go down, according to the new data, is the amount of money the city collected in Municipal Court fines and fees. Total collections at Municipal Court increased by 14 percent to $4.06 million.
Those numbers rose because city commissioners in late 2009 approved $12 per ticket increases for speeding and many traffic violations.
Other numbers from Municipal Court's 2010 annual report include:
• In terms of nontraffic or parking offenses, theft continued to be the No. 1 offense prosecuted at Municipal Court. There were 444 theft cases, down from 454 in 2009.
• Minor in possession of alcohol cases spiked upward in 2010. The court prosecuted 392 minor in possession cases, up 46 percent from 2009 totals. But the numbers are still below 2006, 2007 and 2008 totals when more than 400 minor in possession citations were issued each year.
• Noise violations continued their steady downward trend. Tickets in that category have declined each of the last five years from 449 in 2006 to 189 in 2010.
Copyright 2018 The Lawrence Journal-World. All rights reserved. This material may not be published, broadcast, rewritten or redistributed. We strive to uphold our values for every story published.