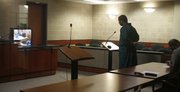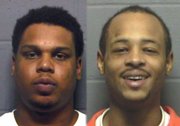 The murder trial of a Kansas City, Kan., man is scheduled to begin this morning, nearly four years and five months after Lawrence hip-hop artist Anthony "Clacc" Vital's body was found west of Lawrence.
Durrell Jones, 26, faces a first-degree murder charge for the shooting death of Vital.
According to court records, prosecutors plan to have Jones' co-defendant Major C. Edwards Jr., 31, of Lawrence, testify that Jones sold and provided drugs to Vital and that Vital owed Jones money for those transactions.
"Evidence of the defendant's prior actions is necessary for the state to prove motive in the present case," chief assistant district attorney David Melton wrote in a motion in the case. "It is also relevant to show the reason why the homicide occurred."
Edwards pleaded guilty in March 2010 to voluntary manslaughter for his role in Vital's shooting death. Jones has fought the murder charge for several years, said his attorney John Kerns, who did not reveal anything about his defense tactics.
"In my book it never makes good practice to talk about any of the specific details to start out," Kerns said last week.
Here is a look at major events in the case, which will be tried in Douglas County District Chief Judge Robert Fairchild's courtroom:
Oct. 15, 2006
Douglas County sheriff's officers are called when a property owner discovers a body in a field along U.S. Highway 40 about 2 miles west of Lawrence. Officers ultimately ruled it a homicide.
In coming days, the body is identified as Vital, 28, Lawrence, who was a member of the local hip-hop group called Da
BombSquad. Friends and family members described Vital as a hard-working artist and a "sweet, humble guy."
Oct. 22, 2006
Sheriff's officers and others arrest Edwards, who was said to be out with Vital the night before Vital's body was found, at a hotel in Verona, Miss. The arrest was based on a federal warrant for being a felon in possession of a firearm and ammunition. The federal charges linked Edwards to Vital's murder, but he wasn't charged in Douglas County with murder for two years, pending resolution of the federal case.
December 2006
Three Lawrence residents were charged in Douglas County District Court in connection with the investigation, but none had yet been charged with the murder itself. Carlos R. "Smurf" Green later pleaded no contest to being a felon in possession of a firearm and explosive device and was sent to prison for a parole violation. James Neal Williams entered a plea to obstruction and was sentenced to serve 14 months in prison.
Not all of the charges stuck. An obstruction charge was dismissed in 2007 against Audrey Ferguson, whom prosecutors accused of telling her roommate not to cooperate with officers.
Jan. 18, 2008
Edwards pleads guilty in federal court to unlawful possession of a sawed-off shotgun and admits that on Aug. 11, 2006, he left the gun on the porch of a Lawrence residence and returned the next day to retrieve it and discovered it had been turned over to police. He later is sentenced to serve five years in federal prison.
March 11, 2008
Douglas County Sheriff Ken McGovern and District Attorney Charles Branson announce the filing of first-degree murder charges in the Vital case against Edwards and Jones, who was also in federal custody awaiting sentencing on federal drug charges. Jones was later sentenced to serve six years in prison for the federal case.
November 2008
During a preliminary hearing, several details about the investigation and prosecution's theory emerge, including DNA evidence said to match Jones and Edwards found on items near Vital's body — a water bottle, a cigarette butt and an unsmoked cigarette.
Investigators also testified they linked a shell casing found with Vital's body to a 9 mm handgun that a man said Jones stole from him at a party Oct. 14, 2006, the night of the shooting.
One man who was in federal custody at the same time as Edwards said Edwards told him he pistol-whipped Vital and the gun went off accidentally, so he shot Vital a second time. Coroner's investigators said Vital was shot three times. Another jailmate also alleged Edwards told him he killed Vital over a disagreement about a woman and something to do with the music business.
March 19, 2010
Edwards enters a guilty plea to a lesser charge of voluntary manslaughter for Vital's death. He has not yet been sentenced in the case, and both Edwards and Jones have remained in custody in the Douglas County Jail.
The trial for Jones has been delayed several times because one of his attorneys moved out of state and another one closed his law practice before Kerns was appointed.
Jury coordinator Karen Curl said court officials have summoned a slightly larger pool of prospective jurors than normal for the case. About 70 Douglas County residents have been called for jury selection at 9 a.m. this morning, she said.
Copyright 2018 The Lawrence Journal-World. All rights reserved. This material may not be published, broadcast, rewritten or redistributed. We strive to uphold our values for every story published.