Every day, Mary Ann Frevert commutes about 10 feet to her office.
She turns on her computer, pulls out case files stored in cardboard boxes and launches into her work as an investigator for a government regulatory agency.
Though she puts in a 40-hour workweek at her rural home in Berryton, Frevert is constantly alone. If not for her daughters, ages 6 and 7, she says she might not see another soul for days on end.
"I noticed on Facebook when we had that snow storm ... everybody was posting how they had cabin fever and couldn't get out," she says of the Feb. 1 blizzard. "I was like, 'I go three or four days at a time without going anywhere.' I don't even leave the house, I'm just here. It doesn't bother me, I guess."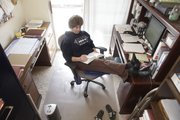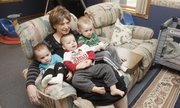 For some folks, going to work means going it alone. These worker bees can spend hours on end by themselves, working away, nary a boss looking over their shoulder or office gossip stopping by to glean intel.
In Frevert's case, she doesn't dispute that she may have one of the area's loneliest jobs, but that doesn't mean she's twiddling her thumbs or daydreaming. In fact, she says working alone might even make her more productive.
"I guess I'm kind of a loner," she says, laughing. "With people around, I get distracted. This (makes it) so much easier to focus on the work. Because when I was in-office, you know, I would end up getting involved a conversation with somebody. Sometimes, it's work-related, and sometimes it's not. And even if it is work-related, I'm not getting work done."
A tall order
Zach Carlson travels an hour by car from his home in Gladstone, Mo., and then 140 feet via ladder to get to his single-handed job.
Carlson is the crane operator working on the Kansas University School of Engineering's new research facility. For the past month, his crane has been moving loads all across the J.E. Dunn job site of the 34,600-square foot building. His schedule is such that oftentimes, Carlson will spend 10 hours a day suspended in the air all by his lonesome, working the crane while conversing with other folks on the site via radio.
"Some guys don't like it, they want to talk to everybody and wander around the ground and stuff, that's why they don't like it up here," says Carlson, who began working on cranes in 2004. "I don't mind being by myself. It's quiet up here. Peaceful."
Frevert agrees with Carlson's sentiment. In fact, she thinks it definitely takes a certain type of personality to be able to have a lonely job.
"I know people who say they couldn't do it because they would actually be less productive because there's nobody there to make sure they're actually in their office working," she says, settled into her desk chair in sweats and sandal slides. "For me, I just pretend like somebody's watching me."
For Carlson, someone is watching him, and not just his co-workers and supervisors on the ground. No, the School of Engineering has webcams aimed at the construction site 24/7. What would you see if you checked out Carlson's cab? Intense bouts of activity laced with copious amounts of downtime while waiting for the ground crew or for an improvement in weather conditions.
"One little slipup, and you can kill somebody. You just have to have good concentration," says Carlson, who likens the crane's controller sticks to arcade-game joy sticks. "You'll be busy, you'll hook on something, and you might be sitting there for 20 or 30 minutes while they're getting it ready. So, you may just sit there for 20 to 30 minutes at a time sometimes. You can relax a little bit."
That downtime also includes lunch, something he takes by himself in the cab. Once he's up there, he's up there, but he says that isn't so bad at the KU job site, where he'll be for about the next year.
"Some of the cabs are really small, this one is a little bigger. I was able to stick a microwave in here. Some of the cranes you can't, they have really small cabs, so you've just got to eat cold food all the time," he says, estimating his cab is 3-feet-by-7-feet in size. "I can stand up in it, I'm 5-foot-10. Some of the newer cranes, the cabs are real small."
Pint-size company
Also technically working alone but not alone? Many of your area daycare providers. Yes, they have kids around all the time, but in big scheme of things, that isn't the same as working alongside adults.
Before Becky Grammer went into the home daycare business 30 years ago after the birth of her second child, she worked as a dental assistant, constantly greeting patient after patient after patient. She says she doesn't miss that at all since opening Becky's Day Care near Baldwin City, and that the transition from working with people to being alone wasn't that difficult for her.
"At that time I just had a baby, so you know," Grammer says. "Your world revolves around them, that's for sure."
That's why Frevert got into the working-alone business in the first place. After she had her daughters, she requested to go from an in-office job that would require her to drive to Topeka daily to one done from the confines of her house. Seven years in, she says the switch to working alone at home has been one of the best career decisions she's made on several levels.
"I stay focused on my work. I feel productive," she says, adding she saves money on gas, work attire, makeup, hair products and food. "Being alone is beneficial when you have to look through (points to two boxes containing one case file) 2,500 pages of records."
Copyright 2018 The Lawrence Journal-World. All rights reserved. This material may not be published, broadcast, rewritten or redistributed. We strive to uphold our values for every story published.