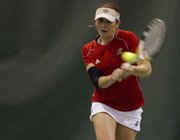 Freshman Dylan Windom clinched the match as Kansas University's tennis team beat Saint Louis, 4-3, Sunday at Jayhawk Tennis Center.
KU improved to 5-4 with its seventh-straight victory over the Billikens (6-5).
Windom clinched the match with a 7-5, 5-7, 7-5 victory over Stephanie Hollis at No. 4 singles.
Paulina Los at No. 2 and Victoria Khanevskaya at No. 5 also won singles matches for the Jayhawks, who also claimed the doubles points in the match.
Copyright 2018 The Lawrence Journal-World. All rights reserved. This material may not be published, broadcast, rewritten or redistributed. We strive to uphold our values for every story published.