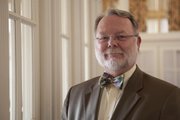 Get information on the issues, candidates and results of the 2011 elections.
Having spent a quarter century working contacts in the halls of the Kansas Statehouse, massaging bills that could affect his clients' very livelihoods, and lobbying lawmakers on matters considered crucial to the success or failure of some of the state's most educated and law-minded professionals, one might think that Jim Clark has the inside track on financial matters in Topeka.
Think again.
"I'm glad I'm not still lobbying," said Clark, a former lobbyist for the Kansas Bar Association and the Kansas County & District Attorneys Association, and who now works as an attorney for the Kansas Health Care Stabilization Fund in Topeka. "It's gotten really brutal across the street."
Instead, Clark aims to get involved in another relatively challenging environment closer to home: He's one of nine candidates running for four seats up for election April 5 on the Lawrence school board, with winners to begin their four-year terms in July.
By then, Clark figures, Gov. Sam Brownback and the Republican-led legislature already will have made their cuts to public education, ones that Lawrence administrators figure could cost the district another $3 million for the upcoming school year.
Dealing with such a shortfall certainly won't be easy, Clark said, but dealing with its implications will require people who can make decisions while considering many options.
Deciding to close a school or schools — an appointed task force recommends closing Wakarusa Valley School next year, then pushing to consolidate a list of six schools down to four or three within the next three to five years — shouldn't be at the top of the list, he said.
All schools should be preserved, Clark said, as much to give kids the best opportunity to walk to school as to preserve neighborhoods that help the kids become the best that they can be.
"I'm against closing schools," he said. "I'm not convinced we need to close schools, for one."
Clark also supports both preserving smaller class sizes for elementary students and increasing pay for teachers, so that they have less incentive to bolt for more money in nearby Johnson County.
Such efforts take money, of course, and Clark acknowledges that cuts may need to be made somewhere.
"Money will drive it," he said. "Maybe you can't keep 15 grade schools, and pay all the teachers, but I'm not convinced we're there yet."
Clark actually spent one year in the classroom, teaching English and journalism at Emporia High School after receiving his teaching degree in 1966 from Kansas State Teachers College, now Emporia State University. Plans to attend graduate school at the University of Missouri-Kansas City gave way to serving in the U.S. Air Force during Vietnam.
Clark received a law degree from Kansas University in 1975, and was elected and served as Franklin County attorney, from 1976 to 1981, before moving on to 19 years as a lobbyist and executive director of the Kansas County & District Attorneys Association.
He later served six years as legislative counsel — a.k.a. lobbyist — for the bar association, before moving on in 2008 to his current job with the health care fund, an independent, $200 million state operation that assures that physicians and other health care professionals have access to liability insurance.
The three decades spent commuting have given him time to think about issues both statewide and local. And education is one where he can see making a difference.
He wants to be sure that schools are as safe as possible, whether that means adjusting boundaries so that students don't need to cross major thoroughfares on their way to class or ensuring that all buildings have proper fire alarms and emergency-response plans.
A long-term vision also must be established, to prevent recent spending decisions from repeating themselves.
"We're building one or two athletics facilities, and a year later we're laying off teachers and closing schools," he said. "We need some more long-range, coordinated planning."
Copyright 2018 The Lawrence Journal-World. All rights reserved. This material may not be published, broadcast, rewritten or redistributed. We strive to uphold our values for every story published.