Justin Hoffman has lived in Lawrence for years but had never visited the Prairie Park Nature Center.
He also is used to getting parenting advice from his parents and in-laws, both of whom live in Lawrence.
So on a Saturday morning in February, Hoffman brought his 3-year-old son, Caden, to a Daddy and Me playgroup outing at the nature center.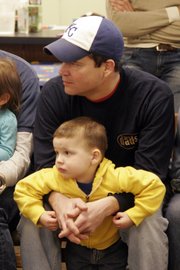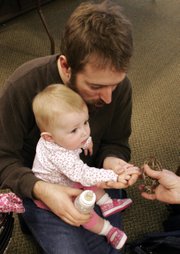 "This is a good way to get out on a Saturday and spend time with my son," Hoffman says. "It's good just to be able to talk to dads my own age."
That's one of the goals of the Daddy and Me playgroup, which is celebrating its one- year anniversary this month. The group, open to fathers and children from birth to 5 years old, is a partnership between Parents as Teachers and Dads of Douglas County.
About 15 dads and their sons or daughters gather monthly for activities, which have included swimming, listening to stories and just playing with toys, in addition to last month's animal lessons at the Prairie Park Nature Center.
"I like to use community resources to tap into, so it gives parents ideas for things they can do with their children," says Gayle Anderson, Parents as Teachers coordinator.
Stay-at-home dad Joseph Fowler, who frequents Daddy and Me meetings with his 18-month-old daughter, Kennedy, says he often goes to playgroups during the week.
"It's usually me and 15 other moms," he says. "Obviously, you have more in common with a dad than a mom."
He appreciates being able to talk about what Kennedy is going through and asking, "Is this normal?"
"I'm always wondering, 'Is my kid the only one who does this?,'" he says. "My goal on a personal level is to interact with other dads. The goal of the whole group is to support fathers who are active with their children."
Charlie Bryan, co-coordinator of Daddy and Me, says between the playgroup and a conscious fathering class that is offered, he hopes dads are both encouraged to be involved in their children's lives and are given resources to help with that process.
"We want to support responsible fatherhood, and to provide a space to foster it," he says.
Anderson, with Parents as Teachers, says she had grown so accustomed to being around mothers' groups that at one of her first Daddy and Me gatherings, when the dads started singing along with their kids, she startled at hearing the low baritone voices.
She hopes more dads with start going to the group to continue breaking the mold.
"It sounded strange," she says. "But we want to change that."
Copyright 2018 The Lawrence Journal-World. All rights reserved. This material may not be published, broadcast, rewritten or redistributed. We strive to uphold our values for every story published.