Best Wi-Fi Hotspot: Mirth Café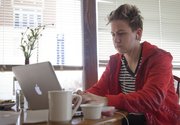 We live in a wireless world. That statement is as much a truth as it is a cliché. And when it comes to where to log on and unwind, The Mirth Café got Lawrence's vote as the town's Best Wi-Fi Hotspot.
A down-to-earth wait staff, bottomless cups of awesome Venezuelan coffee, a strong menu and relaxing environment contribute to a fine place to get some work done.
Open daily from 7 a.m. to 10 p.m., Mirth regularly offers a diverse rotation of menu specials while artwork from local artists is usually on display.
While it might be a little counterproductive if you've got a to-do list, patrons 21 and older are welcome to bring their own bottle of wine.
And if that's Facebook on your browser instead of homework or spreadsheets, we're sure no one will mind.
Mirth Café
Address: 745 N.H.
Phone number: 841-3282
Website: www.themirthcafe.com
Hours: Monday-Sunday, 7 a.m. to 10 p.m.
Owner/Proprietor: Robert Wilson
Opened: 2006
Honorable mentions: It's all in the network.
Java Break, 17 E. Seventh St.
Lawrence Public Library, 707 Vt.
Border's, 700 N.H.
---
Best Hair Cut: Downtown Barbershop
With its extended hours, fast service and array of sports memorabilia, the Downtown Barbershop beat out a number of bells-and-whistles salons to win Best Hair Cut.
Owner Jon Amyx has been cutting hair for 35 years, following his late grandfather, Cecil, late father, Tom, and older brother, Mike, into the family business. He opened his own shop in 1987.
Address: 824 Mass.
Phone number: 843-8000
Website: N/A
Hours: Monday-Friday, 7 a.m. to 5:30 p.m.; Saturday, 6 a.m. to 4 p.m.; Sunday, noon to 5 p.m.
Owner: Jon Amyx
Opened: 1987
Honorable mentions: [Your choice of haircut pun.]
Green Room Salon, 924 1/2 Mass.
Amyx Barbershop, 842 1/2 Mass.
Z Hair Academy, 2429 Iowa.
Best Place for Auto Repairs: Westside 66 & Carwash
Owner Richard Haig bought the Westside 66 & Carwash in 1985 and says that customer loyalty is high for the shop, which is located at Schwarz Road and Sixth Street.
Address: 2815 W. Sixth St.
Phone Number: 843-1878
Website: www.phillips66.com
Hours: Monday-Saturday, 7 a.m. to 10 p.m.; Sunday, 8 a.m. to 8 p.m.
Owner: Richard Haig
Opened: 1957
Honorable mentions: Yeah, we can fix that.
Lawrence Automotive Diagnostics, 2858 Four Wheel Drive
Slimmer Automotive Service, 2030 E. 23rd St.
Best Store Cat: Sunflower Outdoor & Bike
Stanley is a lion among men.
The tan longhair male cat, who is shaved in a fashion that makes him look more like a miniature Simba than house cat, beat out other beloved felines, including Alice of The Dusty Bookshelf and Love Garden Sounds' three cats, for our top store cat prize.
Stanley has been roaming the sporting goods store for nearly a decade after being adopted from the Lawrence Humane Society. His favorite spots are on the counter or in a tent he has set up in the display window.
His calm demeanor and formerly rough life — he has missing teeth and BBs in his body from his time before Sunflower — have earned him a devoted following. He's got his own Facebook page and customers can purchase goods covered with his likeness.
Address: 804 Mass.
Phone number: 843-5000
Website: www.sunfloweroutdoorandbike.com
Hours: Monday, Tuesday, Wednesday, Friday, 10 a.m. to 7 p.m.; Thursday, 10 a.m. to 8 p.m.; Saturday, 10 a.m. to 6 p.m.; Sunday noon to 5 p.m.
Owners/Proprietors: Dan and Karla Hughes
Opened: 1972
Honorable mentions: Highly contested.
Dusty Bookshelf, 708 Mass.
Love Garden Sounds, 822 Mass.
The Toy Store, 936 Mass.
Best Bookstore: Dusty Bookshelf
The green loveseat. Alice the cat. Shelf upon shelf of books. You gave The Dusty Bookshelf the nod for best bookstore in Lawrence. The Dusty Bookshelf might just be the coolest thing Lawrence and Manhattan have in common.
The Dusty Bookshelf opened in Manhattan in 1985. The Lawrence location opened in 1996.
The store's often so stocked — it claims to offer more than 70,000 titles of books exclusively from the community — that rows of books are continued from shelves to lines on the floor.
The staff will even stay in touch if what you're looking for isn't on hand when you're there. Mass market paperbacks are half-off and visitors are welcome to bring books to sell.
For the serious bibliophile, The Dusty Bookshelf also buys scholarly libraries and sells rare, collectible texts online and in the store.
And, yes, postcards and T-shirts with Alice on them can be had, too.
Address: 708 Mass.
Phone number: 749-4643
Website: www.thedustybookshelf.com
Hours: Monday-Thursday 10 a.m. to 8 p.m., Friday & Saturday 10 a.m. to 10 p.m., Sunday noon to 6 p.m.
Owner/Proprietors: Diane Meredith
Opened: 1996
Honorable mentions: Read state.
Border's, 700 N.H.
Half Price Books, 1519 W. 23rd St.
The Raven, 8 E. Seventh St.
Best Apparel Store: Kohl's
It's got everything from cookwares to luggage to toys, but Kohl's is the place to go for apparel in Lawrence. With deep discounts and nationally recognized brands, deal-seekers stretch their bucks at the department chain, which came to Lawrence 13 years ago.
Address: 3240 Iowa
Phone number: 842-6133
Website: www.kohls.com
Hours: Monday-Thursday, 8 a.m. to 10 p.m.; Friday, 8 a.m. to 11 p.m.; Saturday, 7 a.m. to 10 p.m.; Sunday, 9 a.m. to 9 p.m.
Owner: Kohl's
Opened: 1998
Honorable mentions: Still look sharp.
Weaver's, 901 Mass.
Urban Outfitters, 1013 Mass.
Wild Man Vintage, 939 Mass.
Copyright 2018 The Lawrence Journal-World. All rights reserved. This material may not be published, broadcast, rewritten or redistributed. We strive to uphold our values for every story published.