Photo Gallery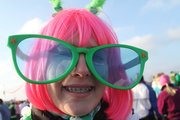 Shamrock Shuffle
More than 400 runners took part in the Shamrock Shuffle 5K on Saturday, March 5, 2011, at the Kansas River levee trail.
Lawrence St. Patrick's Day Parade organizer Deb Drummet beamed when talking about this year's event.
"Oh, and here's a fun fact," said Drummet several times inside Johnny's Tavern, 401 N. Second St., before Saturday's annual Shamrock Shuffle 5K Run.
Plans are solidifying for the March 17 parade, now in its 24th year. Proceeds from Saturday's run will be added to the pot of money already raised to be donated to area charities per parade tradition.
As runners fueled up on breakfast at Johnny's before the Shuffle, Drummet revealed the parade's grand marshal — recently retired Lawrence Police Chief Ron Olin — as well as the parade's senior king and queen, new Lawrence residents Fairley and Donna McCain.
The roughly 500 Shamrock Shufflers received an early shot of inspiration before the run, as Olathe man Tony Farinella, who last year suffered a heart attack during the race, spoke to the crowd.
"I'm excited. I'm a little nervous," said Farinella, 51, who has made a full recovery and trotted along the Kansas River with the other runners.
Proceeds from the run, parade and several other upcoming events will benefit three area nonprofits: Cooper's Cause, Imagine Drop-in Child Care and Junior Achievement. Through the years, the parade and associated events have raised a total of more than $500,000 for local charities. Drummet said parade organizers hope to exceed last year's fundraising total of about $50,000.
"Just as much money as we possibly can," Drummet said.
Copyright 2018 The Lawrence Journal-World. All rights reserved. This material may not be published, broadcast, rewritten or redistributed. We strive to uphold our values for every story published.