Among the thrift store shelves at the Social Service League, 904 R.I., Jim Russo recently spotted several former presidents of the United States. They were in a collection of 50-year-old color transparency slides.
"They were all in boxes, some with labels, and one said U.S. Presidents," said Russo, of Lawrence.
What he thought would be commercial reproductions turned out to be originals.
"Low and behold, the photos of presidents someone took up close, maybe a newsman," Russo said. "We have (Dwight D.) Eisenhower's library dedication with Ike and Mamie. We have several of (Harry S.) Truman, one of the best is of him and Jack Benny."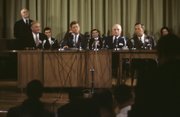 Also in the collection is one of Sen. John F. Kennedy at a 1961 press conference in Independence, Mo., soon after being nominated Democratic candidate for president.
They are wonderful historic photos considering the subject matter and the proximity of the photographer to the subjects. Although they were mixed in with family vacation shots, Russo figured it to be the work of a professional photographer and contacted me to see if I could help identify him. After looking at the collection I have a couple possible scenarios.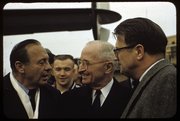 First, the photographer was an acquaintance of Truman or Eisenhower or was a prominent citizen in the Kansas City area, invited to participate in these regional events that occurred between 1958 and 1962. One reason for thinking this is that the photographer used Kodachrome film, which required a week or more for processing and wouldn't be used by a news photographer on deadline. He could have been a magazine photographer assigned to shoot color, but it's interesting to note that even the Truman Library's online site contains only black-and-white images, several from the same event and almost the same moments.
The second possibility is that the photographer was a indeed a journalist but used two cameras — one for his black-and-white daily news coverage and another camera with color film for his own personal documentation of the event.
Regardless of the scenario, there is no indication in the slides of the identity of the photographer. The lack of documentation is unfortunate, but the fact that these valuable images could have been lost is worse. If you have a collection of photographs and don't know what to do with them, my next column will offer some options. Meanwhile, don't throw anything away.
For another story on hidden treasurers, check out the story of Chicago nanny Vivian Maier, whose 100,000-plus negatives photographed between 1950 and 1990 were discovered at an auction. The images are getting a lot of attention in the museum and photography community. Visit www.vivianmaier.blogspot.com.
Copyright 2018 The Lawrence Journal-World. All rights reserved. This material may not be published, broadcast, rewritten or redistributed. We strive to uphold our values for every story published.