You are about to read two true stories. Though it's difficult to say which tale is harder to believe, neither has been embellished, exaggerated or falsified. Because, as you will see, there's no way I could make this stuff up.
Story number 1:
The year was 2000. My husband took a business trip to Los Angeles with his boss. They stayed at a West Hollywood hotel famous for its celebrity clientele, the Sunset Marquis.
"Keep your eyes peeled for celebs and report every sighting immediately," I instructed him, knowing full well that — besides athletes — my husband wouldn't know a star if they overdosed and fell in his lap.
On the first evening away, he dutifully called home.
"This place is unbelievable," he raved. "I've got my own villa with a living room, grand piano and a crystal chandelier. And, there's a private pool, just for the villa people."
"I LOVE the villa people," I replied. "Are you the cowboy or the cop?"
"There's nobody here except one couple," he continued, ignoring my lame attempt at disco humor. "I've got the place to myself."
That wasn't exactly accurate, as it turned out. He had just taken a swim in the villa people pool. And, he wasn't alone.
"Just me and a girl sunbathing," he said, nonchalantly.
In the exhaustive interrogation that followed, I discovered the young woman in question had been lounging topless — on her back, mind you — in a chaise a few feet from the pool where my husband was "swimming." She wasn't anyone he recognized, not that the big lug had noticed her face.
"It was no big deal," he said, all blasé-like.
"No big deal!?" I said, in disgust. "Where are the morals? Where is the decency? Were they real?"
"How am I supposed to know?" he said. "Gotta run. We're going to the Whiskey. That's a famous bar in the hotel."
"I know … but, wait …" The dial tone pierced my ears.
The next day, he phoned again.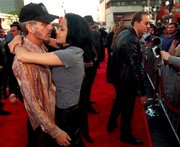 "I had a sighting!" he said, excitedly. "There was a camera crew at the Whiskey interviewing Billy Bob Thorton right next to our table. He's staying in the villa next door to me with his girlfriend. 'Name's Elvira or something … Elvira Joleen.'"
It took a few seconds for me to process: Billy Bob Thorton? Didn't his girlfriend win best supporting actress for "Girl Interrupted"? That voluptuous woman who carries a vial of Billy's blood around her neck? Wait a minute! The villa next door… one other couple…?
"OH MY GOD, THAT WAS ANGELINA JOLIE YOU SAW TOPLESS AT THE POOL!" I screamed into the phone. "She's Hollywood's new 'it' girl. Won the Academy Award. You know, Jon Voight's daughter?"
"Whatever," he said. "No big deal."
Over the years, as Elvira — er, Angelina — became a household name and the object of men's desire worldwide, the story became legend. Men, upon hearing the tale for the first time, would bow down before my husband in deep reverence. Some would actually weep.
Most importantly, the incident made my spouse a hero — no, a god — in our son's eyes.
Everyone agreed it was the best celebrity sighting in the history of the world. Even I had to agree. And I was Paul Newman's waitress in 1976. (But, that's another story.)
Still, my betrothed feigned indifference.
"No big deal," he'd say.
Story number 2:
Last weekend, my husband took a road trip with members of his old high school basketball team. After 39 years, the male bonding ran the gamut — from talk of glory days to grandkids to travel, from marriage to divorce to retirement plans.
He recounted the conversations to my son and me in a restaurant Monday night.
"One of the guys asked if anyone had had any celebrity encounters. And, guess what? Greg drove Bob Dole to the airport once. How cool is that?"
"Yeah, yeah. But, you did tell 'em the Angelina Jolie story, right?" my son asked, hopefully.
"Oh, man," came the reply. "I forgot all about that."
"ARGGGGGGGHHHHH!" we screamed, in unison. "HOW COULD YOU FORGET THE ANGELINA JOLIE STORY!!??!"
"Whatever," he said. "No big deal."
Driving home that night, I realized what a rare man I had married — a guy who could actually forget he had seen, at close range, the bare breasts of one of the sexiest women in the universe.
I thanked God for such a man. And I tried not to notice him banging his head repeatedly against the dashboard.
Copyright 2018 The Lawrence Journal-World. All rights reserved. This material may not be published, broadcast, rewritten or redistributed. We strive to uphold our values for every story published.