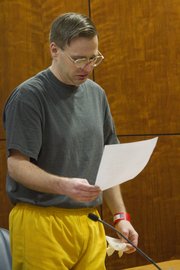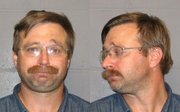 Douglas County District Judge Peggy Kittel on Friday sentenced a Lawrence man to serve a prison term of 50 years to life for raping and sexually molesting two girls.
"It was certain in this case that the defendant had a fiduciary relationship with these children," Kittel said before sentencing Donald L. Brown, 33. "They were placed in his care by the parents of the victims to spend time with and basically baby-sit these children."
Brown had pleaded guilty in January to eight charges, including three counts of child rape for having sex with the two girls from 2008 to 2010. The Topeka girls, who now are 9 and 11, would frequently stay at Brown's northern Lawrence home in between school and church activities.
"The request is that Donald Brown never get out of prison," said Chief Assistant District Attorney Amy McGowan, who prosecuted the case.
Kittel granted McGowan's request to have Brown serve two life sentences back to back. On each sentence, Brown will not be eligible for parole until after serving 25 years. McGowan had asked for one life sentence for each victim in the case.
In December, Kittel sentenced Brown's wife, Natasha M. Brown, 34, to serve more than two years in prison after a jury convicted her of two counts of child endangerment for not reporting the sexual abuse.
The girls' family met the Browns through Heritage Baptist Church, which is northwest of Lawrence. According to evidence at Natasha Brown's trial, the girls told their parents last May about Donald Brown.
Lawrence police officers later arrested the Browns.
Donald Brown's attorney, Michael Clarke, had asked Kittel for his client to be eligible for parole after 25 years.
"It is a very severe punishment and is sufficient," Clarke said when asking for a 25-year sentence.
Brown tearfully apologized for his actions and to the victims. The family chose not to attend the hearing, McGowan said.
"I have committed terrible sins. I've hurt many people. I'm very sorry for all the harm I've caused," he said. "I pray to God that he heals those who I have hurt. I know that I must be held accountable for my crimes. I have prayed for guidance on what I can do to atone for my sins."
Brown said he accepted responsibility for his actions and that he would try to help other inmates while in prison.
"I promise to do what I can to help prevent these types of crimes in the future," he said.
McGowan said Brown had essentially used the older girl as his sexual partner and "groomed" her by giving her gifts in exchange for sex acts.
"A true pedophile is someone who has, as their sexual ideal, a small child and most generally a girl, and that's what you have here," McGowan said.
Kittel said she could recall only one other case in her legal career when someone was having ongoing intercourse with a young girl.
"This was not a one-time offense but ongoing sexual abuse of two little girls," the judge said.
Kittel also said if Brown ever is granted parole he must register as a sex offender and be subject to electronic monitoring for the remainder of his life.
Copyright 2018 The Lawrence Journal-World. All rights reserved. This material may not be published, broadcast, rewritten or redistributed. We strive to uphold our values for every story published.