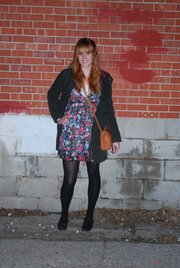 Name: Rachel Feild
Age: 21
Sign: Scorpio
Occupation: KU Student and Server at Spin Pizza in Overland Park
Relationship Status: Single
Hometown: Overland Park
Time in Lawrence: Three years
What were you doing when you were scouted? Hanging out with my friends downtown.
How would you describe your style? My style is dictated by my mood. Sometimes I wear floral dresses and sometimes I wear studs! It is very eclectic.
What are your current favorite fashion trends? I love leather, studs and high-waisted fashion items.
What are your least favorite fashion trends? Leggings as pants, girls who wear baseballs caps and girls who look like they just went to the gym but they really didn't…
What would you like to see more of in Lawrence? More fashion-forward people — people dressing based upon their own sense of self. If this were the case, it would foster a more comfortable, adventurous atmosphere.
What would you like to see less of in Lawrence? Although school spirit is important, I believe people should think more about what they like as an individual and dress in a way that makes them feel good.
Do you have any fashion influences? I check out blogs, like lookbook.nu. And I love lines by Marc Jacobs.
Do you have any piercings or tattoos? I just got my nose pierced — my parents hate me for it!
People say I look like… Anyone who is a red-head!
Tell us a secret: I love James Franco and I have the best hitchhiker's thumb ever!
Copyright 2018 The Lawrence Journal-World. All rights reserved. This material may not be published, broadcast, rewritten or redistributed. We strive to uphold our values for every story published.