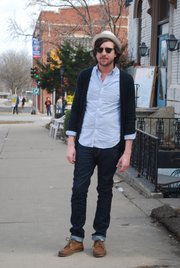 Name: Jon Miller
Age: 22
Sign: Gemini
Occupation: Student
Relationship status: Single
Hometown: Kansas City, Mo.
Time in Lawrence: Six months
What were you doing when you were scouted? Walking around downtown.
How would you describe your style? Simple and classic — brown boots/shoes, button down shirt, and perhaps a hat.
What are your current favorite fashion trends? I like suits, but don't own any. Hats and ties are cool.
What are your least favorite fashion trends? I tried wearing a Snuggie, pajama jeans, and crocs out one night, but that didn't work, so I may harbor bitter feelings toward those articles of clothing.
What would you like to see more of in Lawrence? A grocery store to replace Borders on Seventh and New Hampshire.
What would you like to see less of in Lawrence? Homework
Do you have any piercings/tattoos? I have commitment issues with tattoos.
Do you have any fashion influences? Anyone that shops for me.
People say I look like... Nicholas Cage has come up a few times, but I really don't see the resemblance.
Tell us a secret: I wear clip-on ties.
Copyright 2018 The Lawrence Journal-World. All rights reserved. This material may not be published, broadcast, rewritten or redistributed. We strive to uphold our values for every story published.