Photo Gallery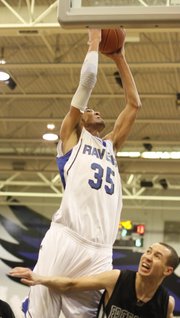 Free State boys vs. Olathe Northwest
Olathe — Free State High senior Evan Manning couldn't have imagined he was taking the final shot of his high school career.
With the Firebirds trailing by two with 15 seconds to play, Brett Frantz drove toward the paint and dished the ball off to Manning at the top of the arc, who didn't hesitate to rise up and fire the potential game-winner.

The crowd fell silent as the ball bounced gently off the front rim, danced around the edges, caromed off the glass and hopped a few more times around the rim before falling off as time expired.
"I thought it was going to fall; it didn't," a crestfallen Manning said following Free State's season-ending, 42-40 loss to Olathe Northwest on Wednesday night at ONWHS.
"It felt like it was up there forever."
FSHS coach Chuck Law said the play was perfectly executed, and he thought the shot was going to drop through the net at least three different times.
"It took a look. It just wouldn't go," Law said. "It was a hell of a shot, a courageous shot. A lot of kids don't take that shot in that situation, but Evan (does)."
"You hate to see that for your seniors," Law added, praising Manning, Alec Heline, Austin Hoag and Eric Watson. "They're as a great a group as we've ever had at this school."
The Firebirds (12-9) were ahead for most of the night and led by as many as nine in the fourth quarter until Shavon Shields single-handedly pulled ONW back into the game.
Shields scored 13 of his 21 points in the final quarter, including nine straight points that tied the game at 40. After a FSHS miss, Shields knifed his way to the basket and banked in a reverse layup to put the Ravens on top by the final margin.
"He did what big-time players are supposed to do," Law said. "He took the game over."
Neither team was close to in rhythm offensively in the first half. Many good looks rimmed out for FSHS, which shot 30-percent in the half, and ONW missed at least a half-dozen layups and shot 16 percent (4-for-24) from the floor.
"I think both teams probably went into the half thinking it could have been a 10- to 15-point lead," said Law, whose Firebirds carried a 18-13 lead to the break.
FSHS led 31-26 after three quarters after eight points from Georgi Funtarov (16 points, 12 rebounds) and a big three-pointer from Frantz (seven points).
But ONW center Willie Cauley (15 points, 13 rebounds) scored two quick baskets to open the fourth, and Shields began his tear with a loud, two-handed dunk to bring the crowd back to life.
FSHS, meanwhile, went cold from the floor and only mustered four points in the final four minutes.
The Ravens, though, gave the Firebirds one final opportunity after missing four late free throws — and Law called Manning's number for the final shot.
Though Manning got a clean look, as Law said postgame, the ball simply didn't bounce in the Firebirds' favor.
"It's hard to take off that jersey for the last time," a teary-eyed Manning said, managing to force a meek smile. "I'm proud that they let me take that shot at the end. That they had enough trust in me."
Box score
Olathe Northwest 42, Free State 40
FREE STATE (40)
Shawn Knighton 0-4 1-2 1, Georgi Funtarov 7-17 0-0 16, Austin Hoag 0-0 0-2 0, Alec Heline 3-10 1-3 8, Evan Manning 2-7 1-3 6, Brett Frantz 3-5 0-0 7, Cameron Dabney 0-0 2-2 2, Tyler Self 0-0 0-0 0. Totals: 15-43 5-12 40
OLATHE NORTHWEST (42)
Davis Reid 1-6 0-0 2, Trey Bales 1-5 0-0 3, Austin Fisher 0-1 0-2 0, Shavon Shields 7-17 6-8 21, Willie Cauley 5-12 5-6 15, Graham Dobbins 0-0 0-2 0, Andrew Trotter 0-2 0-0 0, Sam Power 0-0 1-2 0 1. Totals: 14-44 12-20 42
FSHS 10 8 13 9 — 40
ONW 6 7 13 16 — 42
Three-point goals: Free State 5-16 (Funtarov 2, Heline, Manning, Frantz); Olathe NW 2-15 (Bales, Shields). Fouled out: None. Shooting: Free State 15-43 (35-percent); Olathe NW 14-44 (32-percent). Turnovers: Free State 8, Olathe NW 8.
Copyright 2018 The Lawrence Journal-World. All rights reserved. This material may not be published, broadcast, rewritten or redistributed. We strive to uphold our values for every story published.