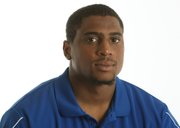 Douglas County District Judge Paula Martin on Thursday sentenced a former Kansas University football player to 60 days in jail and three years on probation for a May 2010 burglary incident in which four KU students were held at gunpoint.
Martin told Vernon Brooks, who has no criminal history, that if he fails to fulfill terms of his probation he could spend nearly four years in prison.
"This is your chance to show that you can do this, but if you don't, you'll have more significant time to serve than was recommended by the prosecution," Martin said.
Brooks, 23 and from Missouri City, Texas, in January pleaded no contest to aggravated burglary and aggravated assault charges in connection with the May 14 incident at Tuckaway Apartments, 2600 W. Sixth St.
The four students testified in October that two men wearing black ski masks at 1:30 a.m. entered the apartment armed with handguns and forced them to the ground. Co-defendant Jamal Greene, another former KU football player, pleaded guilty in February to the same charges.
Prosecutors and police said Greene and Brooks came into the apartment because they thought they could steal drugs and money from a back bedroom. Brooks had already been dismissed from the team before the incident, and Greene was kicked off the team later that day.
Defense attorney Charles Whitman said Brooks was remorseful for his actions and was dealing with the realization that he couldn't pursue a football career. He said he had lost a major support system and fell into behaviors like drug use.
But Whitman argued that a strict probation term, including an alcohol- and drug-treatment program, would "provide services of safety to the community."
"A program of probation would be more effective than prison in reducing the risk of offender recidivism," Whitman said.
Brooks apologized to the victims, who were not at the hearing.
"Not only have I embarrassed the University of Kansas, but I also embarrassed myself at the same time," he said. "I am doing everything I can to rebuild my name."
But Michael Allen, an assistant district attorney, said it was a serious crime. He said the two female students didn't know if they were going to be killed or sexually assaulted before the suspects left.
"(Being held at gunpoint) is something that those four individuals who were not doing anything wrong are going to have to live with for the rest of their lives," Allen said.
Martin said several people had vouched for Brooks' character and that he would benefit from an intensive probation and treatment program.
"Even under these egregious circumstances, the Legislature has provided for a goal of serving community interests," Martin said. "And the Legislature has said that if there is a way to reduce offender recidivism and promote your reformation, community safety interests hereby will be served."
She ordered Brooks, who will not be allowed to leave his home state of Texas, to register as a violent offender for using a firearm and to comply with treatment recommendations from an alcohol and drug evaluation. If he violates his probation, Brooks will have to serve nearly four years in prison.
Greene, who played football last season for MidAmerica Nazarene University in Olathe, faces an April 1 sentencing in the case.
Copyright 2018 The Lawrence Journal-World. All rights reserved. This material may not be published, broadcast, rewritten or redistributed. We strive to uphold our values for every story published.