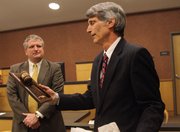 In a town full of teachers, Randy McGrath is one of the few that held class five days a week, all year round. No summer break for this hard-nosed instructor.
Of course, he's not your typical teacher. For the last 12-and-a-half years, McGrath has been the city's lone Municipal Court judge. His courtroom handled everything from speeding tickets to DUIs to arcane city code violations. And most days, McGrath said, it provided a few lessons, too. McGrath retired from the bench on Wednesday.
"So many people who come through this court represent themselves pro se that there is a lot of teaching involved," McGrath said.
Not always are the lessons on the finer points of the law.
"A lot of times you have to teach people this isn't a Western Civ. course on campus," McGrath said. "There is a certain code of conduct here. There is a certain dress code here. You can't wear a hat here. You can't have a shirt that hangs down to your knees here."
McGrath's colleagues on Wednesday praised him as a fair judge who was willing to work with people when possible.
"He was a very courteous and conscientious judge," said Jerry Little, a longtime city prosecutor who appeared before McGrath on a daily basis. "I always thought he distributed justice very equitably. But really, he's just an overall great guy."
McGrath, 61, announced earlier this year that he would retire. City Manager David Corliss recently appointed Scott Miller, a City Hall staff attorney, as the city's new judge.
McGrath said the daily grind of being the lone judge in Municipal Court had started to wear on him.
"A coach or an athlete knows when it is time to go, and that is what I kind of felt," McGrath said. "I was just feeling a little burnt out. There is a lot of repetition in Municipal Court."
For instance, McGrath recently calculated that he had conducted 2,500 hearings for DUI cases during his tenure. The court closes about 28,000 cases per year — although not all defendants appear before the judge. The court conducted about 325 dockets — sessions of court where dozens and dozens of cases are heard — in 2010, according to the court's annual report. Ask McGrath how many cases he actually rules upon in a year, and he'll give you a very honest answer.
"I don't know," McGrath said. "I just know that during the course of a day, I see a lot of people."
He also feels like he gets a pretty good sense of the community.
"Municipal Court judges are sort of on the frontlines of a community because you just see so much," McGrath said.
But McGrath said Municipal Court is seldom like an old episode of Night Court. Most days the process runs smoothly and disruptions are rare. Just four times in nearly 13 years did McGrath ever have to declare a courtroom member in contempt of court and have the individual arrested.
"They don't have to listen to what I say, but if they interrupt court after they've been advised not to, I don't have much choice in the matter," McGrath said.
Not that declaring someone in contempt ever gave him much heartburn. Not much did, McGrath said. He said rarely did he ever have a second thought about a decision. And he said making decisions — which ranged from setting a fine for a speeding ticket to ruling on the constitutionality of the city's smoking ban — always came naturally to him.
"I enjoyed going into a courtroom and being in charge of it," McGrath said. "It just fits my personality to make those decisions and to kind of be in charge."
Copyright 2018 The Lawrence Journal-World. All rights reserved. This material may not be published, broadcast, rewritten or redistributed. We strive to uphold our values for every story published.