On the street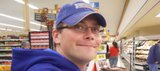 Five grand.
Topeka — Kansas students who complete high school a year early would be eligible for up to $3,000 in scholarships from the state to attend college under a bill considered Wednesday.
Rep. Jim Howell, R-Derby, said the proposal "creates an incentive for students to strive hard for a goal."

Howell told the House Education Budget Committee that some high school seniors are unchallenged and lose momentum in their studies. He said it would be up to students and their families whether to try to graduate early.
House Bill 2234 would set up the Early High School Graduation Scholarship Program. The bill would provide scholarships of up to $1,500 per semester for tuition and fees at a post-secondary school for a maximum of two semesters for students who graduate from high school one year early.
The Kansas Department of Education estimates that about 340 students per year would participate in the program. There would also be a reduction of general state aid payments to school districts. By 2012, the program would generate a savings of about $265,000, according to a state fiscal note.
But Rep. Ward Cassidy, R-St. Francis, said in his 40 years as a teacher, principal and school counselor, he knew personally of only one success story of a student who graduated early and went straight to college. He said he knew of more than 20 instances where it didn't work out.
"Many students are not socially ready," he said.
Rep. Sheryl Spalding, R-Overland Park, however, said she has read studies that say some students, especially gifted ones, who graduate early from high school do well in college.
Rep. Lana Gordon, R-Topeka, who is chair of the committee, said she didn't know yet if the panel would continue working on the bill.
Copyright 2018 The Lawrence Journal-World. All rights reserved. This material may not be published, broadcast, rewritten or redistributed. We strive to uphold our values for every story published.