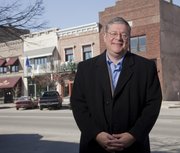 Related document

Related document

Mike Machell campaign finance report ( .PDF )
It was 2007, and Mike Machell was a novice Lawrence school board candidate.
A call from his friend and former Lawrence mayor Shirley Martin-Smith did a good job highlighting the novice part.
"She said, 'Who's on your steering committee?'" Machell recalls. "I said, 'Uh, what steering committee?' She said, 'How much money have you raised?' I said, 'Uh, how much do I need?'"
Machell fell short of winning a seat on the board, finishing fifth in an eight-person field.
"But I'm as proud of that as anything I've done in my career," Machell said.
Why? Because it was an opportunity seized, and that's what Machell has vowed to do for a long time now.
Opportune moments
Growing up in a suburb of Syracuse, N.Y., Machell watched his father go to work as a salesman and his mother as a school-bus driver. It wasn't the type of family that produced an income that would allow him to attend prestigious Georgetown University and pursue his goal of becoming an attorney. But his grades did. With scholarships, he graduated from Georgetown with a foreign service degree, the type of training that prepares people to work for the State Department and other international diplomatic organizations.
But law school would have to wait. Instead, he got a job with a private company that monitored regulatory filings for Wall Street attorneys and bond buyers. He was in the filing room of the SEC when Ma Bell filed the paperwork to break up its telecommunications juggernaut.
"My job was to get on the phone as fast as I could and let our Wall Street clients know," Machell said. "They're not real patient people."
But Machell is. He decided earning a regular paycheck could wait. He had spotted another opportunity instead. Three years after graduating from Georgetown, he sold everything he owned to finance a return to school, this time to get an MBA degree. He ended up getting accepted into one of the more highly ranked public business schools in the country at the University of Michigan.
But there was still that law degree. By the 1990s, Machell (it sounds like Rachel) was a human resources executive for a large international company in Atlanta. But then he spotted another opportunity. Georgia State University — perhaps not the most prestigious but certainly affordable — offered evening law school classes. His employer offered a tuition assistance program.
"I figured it up one day," Machell said. "I own my law degree for $3,500. I did it because it is something I always wanted to do, and I saw the opportunity to do it."
Library leader
These days, Lawrence residents probably are more likely to know Machell as the chairman of the city's Library Board than as a past school board candidate. Machell was on the campaign trail last November urging voters to approve a bond issue for an $18 million expansion of the library at Seventh and Vermont streets.
Now, Machell spends some time trying to convince voters that he's not just the library candidate. The bond issue won approval — with about 55 percent of the vote — but the project's timing, cost and how it fits into a more digital age have been questioned.
Make no mistake, Machell is still proud of the project. He says voters made a good "long-term investment in the community." But he also thinks he has a lot more to offer to city voters than his experience on the library board.
In particular, he believes his business experience can be a benefit on the City Commission. Machell currently is human resources director for Prescription Solutions, the fourth largest prescription benefit manager in the U.S. Out of his Overland Park office, Machell is responsible for a 2,000-person workforce that includes offices both in Kansas and California.
Prior to that, he's worked for large companies including Sprint, Amoco and Belgian industrial giant UCB. It was with UCB that Machell moved to Kansas in 1997 to re-open a cellophane plant in Tecumseh, just outside of Topeka. Two years later he moved to Lawrence from Topeka.
"We filled 200 jobs in seven weeks," Machell said. "I like to tell people that I came to Kansas and brought jobs."
Bringing jobs to Lawrence is a big part of his campaign platform, but he said his professional skills as a top executive of a major company will be useful day-in and day-out at City Hall.
"I have to convince senior executives that making some sort of change is in the best long-term interests of their companies," Machell said. "I spend a lot of time urging people to be open to opportunities."
Issues
Machell said the economic challenges facing both the city and the state are serious enough that both long-term and short-term strategies need to be adopted by the city commission to combat losses in revenue.
On the short-term side, Machell said he wants to focus on ways to capture a portion of an estimated $150 million in lost retail sales.
"We need to emphasize the implications of Lawrence residents buying outside of Lawrence when they could be making their purchases here," Machell said. "I think we could take those efforts up a notch, or two, or three."
On the longer-term side, Machell said the city needs to work more with community colleges and vocational schools to improve workforce training that is available in the city. More workforce training options in the city will make the community more attractive to a wider range of businesses.
Machell also said he thinks the city has great economic opportunities in some less traditional areas. He said the city has many of the attributes to become a retirement destination, and he believes Lawrence could become known as the "Arts Center of the Midwest," with a little bit of nurturing.
"I really want us to focus on marketing what is unique about Lawrence," Machell said. "There are a lot of opportunities out there."
Copyright 2018 The Lawrence Journal-World. All rights reserved. This material may not be published, broadcast, rewritten or redistributed. We strive to uphold our values for every story published.