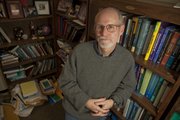 When it comes to leading Lawrence public schools, Rick Ingram doesn't have all the answers. Or pretend to.
But to see the benefits generated through open minds, flexible thinking and shared ideas, Ingram needs only show up at the starting line for the Hillcrest Hawkathon Club, just as he does each Monday and Thursday morning.
The combination of 40 kids with a handful of volunteers produces plenty of energy, motivation and goals the students at Hillcrest School can use to focus, exercise and succeed.
"When we started this running club at Hillcrest, it was because Langston Hughes had this great idea — a marathon club — and for us it was, 'Yeah, we can do that,' " said Ingram, the club's starter and a candidate for Lawrence school board.
Such a model, he said, can help the Lawrence school district in the long run.
"I really want to find ways to actively solicit feedback and ideas from the community, parents and teachers," he said. "Being willing to listen to ideas is fine, but doesn't go very far. We need to solicit that information, so we really create a partnership."
Ingram, a professor of psychology at Kansas University, is among nine people campaigning for four available seats on the school board. The general election is April 5, with winners set to begin four-year terms in July.
Ingram, 56, says he's running because he wants to give back to the community that has served him and his family so well since 2004, when he moved back to Lawrence to join the faculty at KU after 21 years at San Diego State University. The professional stint at San Diego State came after receiving master's and doctoral degrees in psychology at KU, after having received his bachelor's at San Diego State, the campus practically adjacent to a childhood home.
"I have two basketball teams that are going great," he said, of the Jayhawks and Aztecs. "My fantasy is that they meet in the final game, and then I pull for KU."
That game would come the day before election day, another contest he wants to win. He supports:
• Striving for excellence. "I want to have the top-ranked high schools in the state," he said. "I mean that in academics, but I also mean that in athletics, in the arts, in music — in everything. I think the kids need to receive a well-rounded education."
• Starting early. Emphasizing STEM subjects — science, technology, engineering and math — in elementary and middle schools would help provide a "strong foundation" for high school, he said.
• Being transparent. To ensure that tax dollars are spent wisely, he said, the district's budgeting process should be "as transparent as possible." All budget information should be posted and available for all to see, and "to work out a way so it is possible for people to understand."
• Seeking help. Like with the Hawkathon Club, picking up ideas from other places is a good thing, he said. Public meetings are always an option, but technology opens up even more possibilities.
"I love the idea of digital forums," Ingram said. "It could be on Facebook. It could be online comments. We could probably get a bright 11th grader to help us figure it all out. It's so people can feel like they've been listened to, and that's a really important thing."
Ingram's professional work is focused on clinical psychology, with a research emphasis on risk for depression. His wife, Nancy Hamilton, is an associate professor of psychology at KU, and they have an 8-year-old daughter, Zanna, who is in second grade at Hillcrest.
Last year, as the board discussed prospects for closing elementary schools amid budget cuts, the family posted a Save Our Neighborhood Schools sign out front. As the topic has surfaced this year, he would prefer to see the district examine "administrative efficiency" and other sources before closing schools; teachers and instruction would be key areas to protect.
"Absolutely," he said.
He's hoping legislators will provide a steady flow of base state aid per pupil, then allow districts to increase local option budgets to address local needs. That could mean better pay for teachers, and extension of full-day kindergarten to all elementary schools in the district.
If that doesn't happen, of course, there are other places to seek answers.
"We have great resources in this town — at KU and in the business community," he said. "Let's have them involved, and benefit from their wisdom and their ideas. I'm all about borrowing good ideas from anywhere we can find them."
Copyright 2018 The Lawrence Journal-World. All rights reserved. This material may not be published, broadcast, rewritten or redistributed. We strive to uphold our values for every story published.