Photo Gallery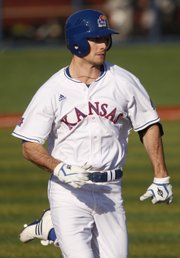 KU baseball vs. Iowa
Related document

KU-Iowa baseball box score ( .PDF )
Just as a few piles of snow are still melting in the corners of Hoglund Ballpark, the Kansas University baseball team is slowly working its way into mid-spring form.
Take the Jayhawks' 5-2 home victory over Iowa on a chilly Monday afternoon, for example.
Senior T.J. Walz pitched six innings, allowing one run off two hits to earn his first victory after losses in his first two appearances.
But Walz, who was uncharacteristically wild in a forgettable season debut at TCU, struggled with his control again on Monday.
"Five walks?" Walz said of his bases-on-balls total. "That many?"
Walz said he never felt right timing-wise out of the windup, but managed to make a few adjustments in the bullpen during KU's at-bat in the fourth inning.
"When he was in the windup, he was just not finishing, kind of flying open," catcher Alex DeLeon said.
Walz said he felt much more comfortable throwing out of the stretch, and it showed.
Though Walz struggled to locate his fastball, his off-speed pitches were working fine, as the 6-foot-1 right-hander baffled lefties with his change-up and buckled right-handers' knees with his curveball.
Walz finished with eight strikeouts. After surrendering an RBI double to Tyson Blaser, which put Iowa on top 1-0 in the second inning, he only allowed only three base-runners the rest of the way.
"I was pleased that he got better as the game went on," coach Ritch Price said.
"But certainly his strength has been his ability to locate his fastball," Price added. "And right now, he's a little bit elevated in the zone."
Offensively, the Jayhawks (2-3) still looked like a team that hasn't hit against a ton of live, in-game pitching.
KU, hitting only .158 as a team, rapped six singles, two apiece from DeLeon and Jason Brunansky, but mostly capitalized off of a wild group of Iowa pitchers who issued six walks and hit five batters.
"Certainly there's a lot more walks and a lot more hit batters than you normally see during any point in time during the season," said Price, whose club totaled seven free passes and one HBP.
The Jayhawks will play six more games this week, starting with a doubleheader against Southern Utah at 3 p.m. today at Hoglund Ballpark.
"The thing we need is to play some games and play some innings and have guys try to find their rhythm a little bit," Price said. "I think it'll give us a chance to make progress offensively. Because right now, we're not very good offensively."
Copyright 2017 The Lawrence Journal-World. All rights reserved. This material may not be published, broadcast, rewritten or redistributed. We strive to uphold our values for every story published.