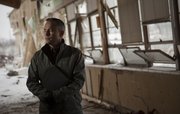 Related document

Related document

Mike Dever campaign finance report ( .PDF )
There were lots of questions.
Lawrence city commissioners had just agreed to put two referendums on the November 2008 ballot that would decide the fate of Lawrence's financially struggling public transit system.
Among the cynical, the question was: What are you trying to do, kill the bus system? City Commissioner Mike Dever assured them that wasn't the case.
Among nervous bus fans, the question was: Do we have enough votes to win? Dever assured them that they did.
Among casual City Hall observers, the question was: Mike Dever is the champion for the bus service?
Dever, the lone incumbent in this year's field of five City Commission candidates, knows his first term in office may have left some surprised at times.
"I came across as a fiscal conservative in the campaign, which I am, but I think some people may have thought I was a conservative in all areas," Dever said.
He's not. Dever said he's a moderate that tries to take the best ideas from both sides of the spectrum. That includes providing a government service, like transit, to help people be more efficient members of the community.
But the conservative side of Dever also insisted that the decision ultimately be left up to the people. Dever was the commissioner who lobbied that two transit sales taxes be their own separate questions on the November 2008 ballot, rather than being lumped in with a general sales tax that would have funded streets and several other items.
"The community needed to speak on the transit issue because it really hadn't spoken on it for 10 years," Dever said. "I wanted a message to be very clear. We needed a mandate."
Voters approved both transit sales taxes with 70 percent and 68 percent of the vote. The sales taxes won in every precinct in the city.
Money matters
Maybe Dever's mix of philosophies comes from a youth that clearly had two story lines. As he shared during his last campaign, Dever, 48, led a fairly normal existence in a Chicago suburb, but then received a shock at age 16 when his father died.
Dever helped the family make ends meet by working as a golf caddy at a country club. The job also created a path to college. He attended Kansas University through a scholarship program for caddies, choosing KU simply because it was the one university that still had a spot available in the program.
Dever went on to get degrees in environmental studies and geography, and now is an owner of Lawrence-based GuideWire Consulting — a firm that provides a variety of environmental site assessments for property owners or those looking to buy property.
Today, Dever said he still has a very conservative view when it comes to money matters. He said budget issues — particularly what he and fellow commissioners found when they took office in April 2007 — stand out as the big topic of his first term.
"The first thing that jumped out to me was that previous commissions had cut the mill levy and they were deficit spending," Dever said. "That's a recipe for economic disaster."
Dever and his fellow commissioners in 2007 agreed to take the unusual step of making mid-year budget cuts, including several that immediately reduced funding to several social service agencies.
"We decided to do the hard cuts right away, and I think that has helped us in the long-run," Dever said. "But raising the mill levy wasn't an option. That is what has been different. I'm proud that we haven't put it back on the homeowners."
Issues
Dever's last campaign — he was the top vote winner in April 2007 — was dominated by talk of increasing the number of jobs in the community. Dever concedes the job numbers still aren't where he would like them to be.
"We were handed the keys to a storeroom that was fairly barren of available land and opportunities for new businesses to come here," Dever said. "We didn't have very many options."
So, Dever said the commission decided to invest what money it could into preparing Lawrence to prosper when the economy improves. He points to three major projects that he thinks have been a success on that front:
Construction of a biosciences incubator on KU's West Campus that was done as part of a partnership with KU, the county and a multi-million-dollar investment from the Kansas Bioscience Authority.
The purchase of an existing laboratory building at Bob Billings Parkway and Wakarusa Drive that the city and county will use to house companies that eventually outgrow the incubator space.
Completion of a deal to take over ownership of the 467-acre former Farmland Industries site that will be converted into an industrial/business park as the city cleans up its environmental problems.
Dever also said the community has improved its image to outside companies, which he said are now starting to consider the city for projects in greater numbers. He said the community has lowered its contention level just enough to make new businesses feel more welcome.
"I've told people that I'm proud the community is willing to fight for what it believes in, but we need to temper that desire to keep Lawrence special with some good news that comes out of City Hall every once in awhile," Dever said.
"I think we have done a better job with that. It is important. If we can get a company to consider us, we have a great shot — because once you're here — the quality of the community really does speak for itself."
Copyright 2018 The Lawrence Journal-World. All rights reserved. This material may not be published, broadcast, rewritten or redistributed. We strive to uphold our values for every story published.