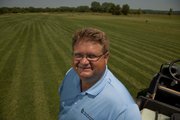 For the last dozen summers, Eagle Bend Golf Course has been known as "a nice little course," one that's easy to play, even easier to score on and still worlds behind the more polished and popular courses throughout the state.
Slowly, that's starting to change.
While a host of people deserves credit for Eagle Bend's improvements, the newest member of that group, Darin Pearson, is the man most directly responsible for the most recent aesthetic changes that have Eagle Bend looking like it belongs with the big boys.
"We've always wanted Eagle Bend to be special," said head golf pro John Morris, in his 11th year at the course. "And Darin has that vision."
Known by most in Lawrence's golf community as "Lumpy," Pearson, 42, began working at Eagle Bend in April after a 13-year career as the superintendent at Alvamar Country Club. He still has the title of superintendent attached to his name, but he also is the Park District #1 supervisor, a role that requires him to maintain the soccer, baseball and football fields at the Youth Sports Complex. His passion for sport was a big reason Pearson became interested in the job when he heard that Kerry Golden, Eagle Bend's only superintendent until now, was heading to Shawnee County to run two courses near Topeka.
A happy-go-lucky guy who seems to have a smile and a handshake for everyone, Pearson has been on top of the world since taking over at Eagle Bend.
"I'm so grateful that the city of Lawrence picked me," he said. "I absolutely love it. I can't emphasize enough how I absolutely think I'm at a dream job. I just feel like this is heaven. It's great."
That's how those who run the day-to-day operations at the golf course feel about having Pearson in their clubhouse. That's why Morris crossed his fingers and made his pitch for the man he's known for 20 years when he heard Pearson was interested in the job.
"I always knew Darin as a solid guy, a guy you wanted on the team," Morris said. "But he's definitely surprised me. I knew he'd be good, but I didn't know he had that much passion. That was a very pleasant surprise."
Since taking over, Pearson, an accomplished golfer who carries a 4 handicap, has gone about his improvements in reverse order of the way the game is played, tending to the greens first, followed by the fairways, rough and then the tees. He insists he's not trying to make the course more difficult, only healthier.
"I've always thought that this is not a municipal golf course," Pearson said. "This course is designed to have a championship, tournament-style course every day. That's my goal."
Asked if he believed upgrading the course would be good for business, Morris did not hesitate to answer.
"I think it is," he said. "Because that'll attract the upper-echelon players to come out here and play. The look is already getting there, and people who may have given up on us are now saying, 'Hey, Darin's over there, we should go play it again and see what he's doing.'"
Though he's only been with Eagle Bend for three months, Pearson said he'd heard positive feedback from several golfers about his efforts.
The praise hasn't been limited to those who play the track.
"This is as good as the course has looked since I've been here," said assistant pro Greg Dannevik, in his fifth year.
As a result, Eagle Bend is starting to play a little tougher.
The greens, which now are running at a 10 on the stimpmeter for the first time in course history, are faster and firmer.
The rough, which used to invite errant tee shots into bare patches that only made the next shot more difficult, is thicker and a fraction of an inch taller.
The fairways, which began receiving their facelift — from rye grass to zoysia — before Pearson started, are not only ideal for ball striking, but also a sight to see.
"On holes 1, 10, 16 and 7, you can't have a better playing surface than we have there," said Pearson speaking of the four fairways where the transplant was complete.
By the end of August, fairways at No. 9 and No. 15 should join those four holes, and Nos. 2 and 11 will follow. By the end, every one of Eagle Bend's fairways will be made up completely of zoysia, a type of turf that's ideally suited for the extreme temperatures and humidity that Eagle Bend encounters each summer.
Although Pearson has received a lot of the credit for Eagle Bend's improvements, he's the first to tip his cap to the course's creators and the groundskeeping staff that has accepted his methods without pause.
"The beauty is, when they designed this golf course they really thought about the kids and the higher handicap golfers but also made it appealing to the more talented golfers, too," Pearson said. "Right now, we're just trying to enhance it and add to the look of the course. I'd love for this to be known as one of the greatest courses in the area. And I firmly believe that this course can stand up to any out there."
Pearson's new gig is not entirely about golf, nor does he want it to be. Part of the reason he chose to leave his happy home at Alvamar was the allure of mowing and watering, cutting and clipping the baseball, soccer and football fields at YSC.
"Before, I would hear the screams of birdies echoing through the valleys at Alvamar, and it would thrill my heart," Pearson said. "But now, it just feels so neat to impact the kids and hear the laughter and see them having fun on those other fields, too."
When he's not up to his ears in grass clippings, Pearson enjoys spending time with his wife, Tara, and their five-month-old daughter, Nellie.
"Between that and trying to get adjusted to a new job, my golf game has definitely suffered," Pearson joked.
As for his nickname, that was given to Pearson back in high school by Washburn University women's basketball coach Ron McHenry.
"He nicknamed a buddy of mine, I can't tell you that one," Pearson said. "And then he called me 'Lumpy,' and it's just stuck with me for all these years. I've always embraced it. Brad Demo, the old golf pro at Alvamar, started putting it on my golf clubs, on my bag. I'm definitely known as Lumpy. I should probably put it on my business card."
Copyright 2018 The Lawrence Journal-World. All rights reserved. This material may not be published, broadcast, rewritten or redistributed. We strive to uphold our values for every story published.