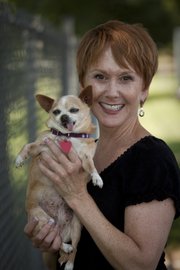 The Lawrence Humane Society has named Dori Villalon as its executive director following a nationwide search.
Villalon, 46, has been hired for a six-month period, after which the society's board of directors could make her a long-term offer, according to a news release.
She has directed animal shelters in San Francisco, Cleveland and Colorado, and most recently was vice president of animal protection for the American Humane Association. Villalon has a bachelor's degree in animal welfare management from Sonoma State University in California.
"We are excited to welcome Dori to the Lawrence Humane Society and the community," said Emily Peterson, the board's president. "She brings the leadership experience, animal welfare expertise and energy we need to continue moving the organization forward."
Former Lawrence City Manager Mike Wildgen has been interim director since Midge Grinstead resigned in March in the wake of a controversy over employees' overtime pay.
Villalon visited Lawrence two weeks ago to meet shelter staff and volunteers. During a reception at The Oread, some volunteers questioned the society's transparency and euthanasia policy. Villalon said she tries to "exhaust every possible resource before euthanizing an animal."
The shelter, 1805 E. 19th St., which takes in about 7,500 animals each year, is waiving all adoption fees for cats in an effort to relieve overcrowding.
"In order to continue and expand our essential animal care and rescue services, we need to grow community support and contributions," Peterson said. "Dori has agreed to jump in to help us meet the goals vital to our success."
The shelter takes in almost $300,000 a year in funding from the city and Douglas County. In 2007, nearly $11,000 of that was spent to put down animals, according to tax records. Tax forms in subsequent years do not provide a more recent figure.
Shelter officials have declined to say exactly how many animals are being euthanized, but they say animals are only put down for health or temperament reasons. Wildgen said the number in recent months was "dozens, not hundreds."
On Wednesday, Villalon met with staff at the shelter again. She said she was already preparing for on an upcoming budget meeting with county officials.
She's also settling into town with her two dogs, Miss Millie, 10, a "fat Chihuahua," and Addison, an almost-2-year-old Anatolian shepherd mix; and two cats, Ernie, 15, a domestic shorthair, and Macy, 7, a three-legged tabby. Villalon said she adopted all four from shelters.
Shelter officials did not say what her compensation will be. Grinstead's salary was $50,000.
Copyright 2018 The Lawrence Journal-World. All rights reserved. This material may not be published, broadcast, rewritten or redistributed. We strive to uphold our values for every story published.