Cottonwood honors U.S. Rep. Lynn Jenkins for helping to improve lives of people with disabilities. Read more.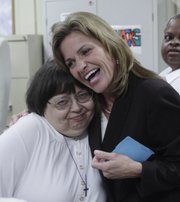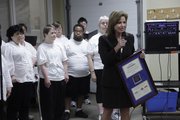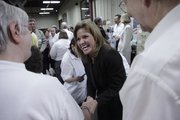 U.S. Rep. Lynn Jenkins, R-Kan., voiced support Monday in Lawrence for a GOP House budget plan that includes Medicare reform and said Democrats had failed to present an alternative.
"We've got the do-nothing plan, and we've got the House Republican plan," said Jenkins, who spoke to the Lawrence Noon Rotary Club at Holiday Inn Lawrence, 200 McDonald Drive. "I will be the first to admit it's not perfect, but it is a plan. And at the end of the day it solves a problem."
Jenkins, a former state treasurer from Topeka, has supported a plan crafted by Rep. Paul Ryan, R-Wis. Democrats have criticized the plan, alleging it would end Medicare.
But Jenkins, who is serving her second term representing the state's 2nd Congressional District, including western Lawrence, told Rotarians that Medicare would remain the same for people 55 and older.
"We made promises to our retirees, and, I think, should not be breaking promises to those folks who are in retirement or near retirement because they've been making plans," Jenkins said.
But she said the Congressional Budget Office estimated with no current changes that Medicare could go bankrupt in nine years and touted a plan to try to balance the budget mostly through an adjustment to provide aid based on income for anyone 54 or younger.
Once people turn 65 and become eligible for Medicare, they would receive a fixed payment to purchase private insurance.
"Those who don't need any help don't get any help, with most of us being anywhere in between," Jenkins said.
Although she did criticize President Obama and Democrats on Medicare, Jenkins spent most of her appearance at Rotary talking about the government debt. Party leaders are negotiating ahead of an Aug. 2 deadline to raise the debt ceiling.
Republicans have argued for deep spending cuts with no tax increases, while the White House insists on some higher taxes as part of any compromise.
Jenkins said she didn't want the government to surpass its debt ceiling but that spending cuts need to be part of the deal.
"I'm not sure we want to walk the plank," she said. "I don't think it's just wise to just raise it without fixing the problem either."
Copyright 2017 The Lawrence Journal-World. All rights reserved. This material may not be published, broadcast, rewritten or redistributed. We strive to uphold our values for every story published.