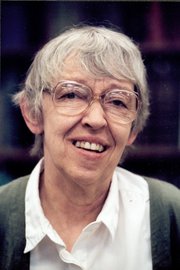 A longtime and well-respected librarian at Kansas University who served as the first librarian of the Kenneth Spencer Research Library has died at age 80.
Alexandra "Sandy" Mason specialized in rare book collections and came to KU in 1957. She was appointed as head of special collections in 1963 and became Spencer librarian in 1975.
"She was enormously well-respected professionally, both in this country and abroad," said Bill Mitchell, a former associate special collections librarian who had worked with Mason from her arrival until her retirement in 1999.
She always looked to the future, said William Crowe, a former dean of libraries at KU who succeeded Mason, beginning new collections in areas like science fiction and modern American poetry.
Though KU lacked the resources of many other libraries at the time, Mason was able maximize every dollar.
While at Indiana University, he recalled how that university aggressively tried to recruit Mason away from KU.
She declined, saying she still had work to do at KU, Crowe said.
Mason was inducted into the KU Women's Hall of Fame in 1980. Crowe said she represented the last link to the "golden age" of KU libraries in the 1950s, under the leadership of Chancellor Franklin Murphy and the head librarian Robert Vosper.
Crowe recalled how she didn't fit the mold of the typical librarian — she drove a red sports car and talked tough, he said.
She wasn't afraid to march into his office and advocate for changing something she thought was going wrong, Crowe said, though she always did it politely.
She also worked well with Helen Foresman Spencer, who donated the funds for the library to honor her husband, Mitchell said. Both shared an exacting attention to detail and a desire to see the Spencer library reach its maximum potential.
"Sandy and Helen were kindred spirits," Mitchell said.
Younger students were important to Mason, too. Beth Whittaker, today's Spencer librarian, said Mason was the one who inspired her to pursue her career path. Mason always took time out of her schedule to help her and others like her, Whittaker said.
"I really do like the work I'm trying to do at Spencer," she said. "And she's the foundation of everything. It's the end of an era."
Copyright 2018 The Lawrence Journal-World. All rights reserved. This material may not be published, broadcast, rewritten or redistributed. We strive to uphold our values for every story published.