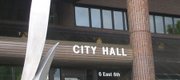 Subscribe to the email edition of Town Talk and we'll deliver you the latest city news and notes every weekday at noon.
News and notes from around town:
• Yes, Dillons still has plans to tear down its grocery store on South Massachusetts Street and replace it with a larger and more modern facility. But no, the company hasn't yet received all the approvals it needs from City Hall to start the project. As we last reported, Dillons won most of the major approvals it needed from city commissioners. But commissioners didn't like the exterior design of the proposed building. In particular, commissioners said the south half of the building was too non-descript for their liking. So, Dillons architects have been working to come up with a new design for the facade. Scott McCullough, the city's planning director, told me recently that his office is still waiting to receive those new designs. But McCullough said Dillons continues to actively work on the project. Once the new design is submitted, it will be presented to city commissioners for approval, along with other site plan issues. Bottomline: I suspect it will be a few more weeks before Dillons has the green light to close the existing store and begin building anew.
• Motorist who use West Campus Road as an expressway into KU may get a surprise come next semester. The city and KU are teaming up to install new traffic calming devices in the area. Expect to see some "speed cushions," which are a close cousin to speed humps, in place by mid-August. The city plans to build two speed humps near West Campus Road and Stratford and two more near 11th and West Campus Road. The $60,000 project was approved by city leaders, but will be paid for by Kansas University. The city has a long list of traffic calming projects that have been approved but haven't been built because of lack of funding. KU's offer to pay for the project likely was critical to making it happen. The university asked the city for the devices because of concerns about how fast vehicles travel in the area, which has a lot of student pedestrian traffic.
• There's been a lot of attention lately on the law change that will bump speed limits to 75 miles per hour on some major highways in the state. But there also has been a change in state law impacting fines for motorists who don't wear a seat belt. Beginning July 1, no city will be allowed to fine a person more than $10 for not wearing a seat belt. Cities also won't be able to charge any court costs related to the offense. That's a big change from what the city of Lawrence has been charging seat belt violators. Previously, the city assessed a $40 fine and also collected $60 in court costs. But during the last legislative session, lawmakers passed House Bill 2192, which mandated that all cities charge the same fine for seat belt violations. Previously, cities were allowed to set their own fines for the violation. (Many did, since the state fine previously was just $5.) So, to review: Speed limits on some area highways are on the way up; fines for not wearing a seat belt are on the way down.
Copyright 2018 The Lawrence Journal-World. All rights reserved. This material may not be published, broadcast, rewritten or redistributed. We strive to uphold our values for every story published.