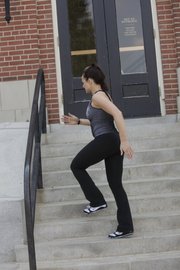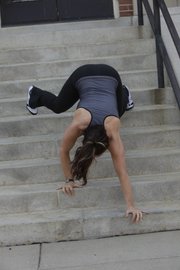 It might be the name of this column, but Lovena Tuley isn't about to tell you that you can get a bikini body in just three moves.
"You can't do three moves for a bikini body," says Tuley, a professional fitness competitor and personal trainer at Studio Alpha, 2449 S. Iowa. "I want to make that really clear."
No, to look good, you've got to clean up your eating, spend time in the gym and work hard. No two ways about it, says Tuley, a member of the pro fitness circuit since 1994. In that time, plenty of people have seen the Lawrence mom of two onstage in a two piece, both before and after giving birth.
Nothing is ever a quick fix in Tuley's mind. She grew up as an athlete and continued into exercise science and physical therapy before settling on training full-time. She says she's been known to yell at other people's clients for their diet-blowing confessions, though that doesn't mean she's not optimistic about their chances of repairing the damage.
"I always say no matter what you've done, no matter how you break it, you can rebuild it, you can remake it," she says.
For her, you are what you eat and how you move. Tuley has always lived by these rules, but after becoming a mother to her children ages 5 years and 6 months, she says she became both easier on herself and more convicted on maintaining a healthy lifestyle. Gaining 25 pounds twice and having two C-sections will do that to a woman.
"You would think you would be harder on yourself, but for me, I've been kinder to myself," she says, adding she was amazed at how her body could recover from such an intensive surgery. "Not to be rude, but nobody wants a fat trainer. If I'm telling them ... 'Oh you can fix it' but I can't demonstrate it, then it doesn't do you any good."
So, how to get that bikini body? Healthy eating and lots of movement — which is the goal of Tuley's three moves routine. All the moves are big calorie burners that don't require any special equipment except for a set of stairs.
"The three moves I would have people make for a bikini body would probably be lifestyle changes, not exercises," she admits, saying she does believe fitness is 90 percent diet. "I had to narrow it down to the three things I think would burn the most calories, use most of the total body, maybe get people outside — (where) there's no excuses of equipment."
So find a staircase, lace up your shoes and get to work.
Three moves
Stair circuit: Start by running up the stairs. Next, take them two at a time. If you feel comfortable, you can change it up by running laterally up the stairs. Another more advanced variation is bounding up the stairs. Do as many passes as you can with good form.
Squats: Beginners can start by using a pole along the stair railing for balance. Squat down to parallel and come up, being careful to keep your knees from going in front of your toes and your weight should be in your heels. Repeat.
For those who don't need help balancing, stand on a step with your arms in front of you and squat until your behind tap a step, then return to a standing position. Repeat.
Pushups/bear crawl: Standing on the ground, do pushups with your hands planted on the steps. The more vertical you are, the easier they will be. Fewer steps means a higher difficulty. Repeat as many as you can with good form.
For those who are more in shape, try the bear crawl: crawl up the stairs while on all fours. Start by going up in a bear crawl and running down. When you feel stronger and more comfortable, you can bear crawl down.
Copyright 2018 The Lawrence Journal-World. All rights reserved. This material may not be published, broadcast, rewritten or redistributed. We strive to uphold our values for every story published.