Sorcha Hyland, program assistant at the Center for Remote Sensing of Ice Sheets (CReSIS) based at Kansas University and exiting part-time coordinator of KU's Spencer Museum of Art's Youth and Family Outreach program, enriches Lawrence's international dimension.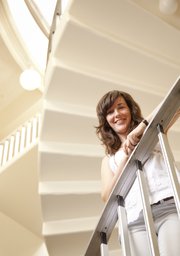 Born in Wexford, Ireland, Hyland imbibed the best of Irish and international culture from her parents, who taught English, drama, history and French, participated in Wexford's annual international opera festivals and traveled internationally; and from her grandparents.
"I spent hours by the sea in rain or shine where my grandfather was a lobster fisherman," she says.
"As the family's oldest grandchild I spent many childhood hours with my grandparents, especially my grandmother, a retired postmistress. She'd take me visiting her elderly friends who lived in thatched cottages down meandering lanes in the middle of God knows where. We'd sit around open fires, drinking lots of tea and reminiscing about the past. My grandmother played her fiddle and sang, and everyone would join in. I was probably one of the last of my generation to experience that world."
Hyland took a "gap" year before heading to the university. She worked as stage manager for a Wexford "Theater-in-Education" troupe who traveled around Leinster primary and secondary schools to perform plays devised to introduce pupils to environmental issues. She also helped produce street theater plays and an area arts magazine.
She graduated from University College Dublin in1996 with an MA in film studies and worked in film production in Ireland and England. After becoming jaded with the film industry and Dublin life, she decided to travel and headed for America.
Hyland worked as a nanny in California, visited her uncle (a Menniger Clinic psychiatrist) in Topeka, met local musician and Taproom manger Jeremy Sidener in Lawrence and married in 2002. She worked with children and juveniles at Douglas County's Citizen Review Board for five years before taking a break to have her daughter.
Hyland has enjoyed two very different jobs at KU, although she leaves the Spencer to start full-time at CReSIS this week. One engages her analytical dimension, the other her more creative and playful side.
"CReSIS is an incredible place to work," she says. "It's extraordinarily cutting edge in its efforts to provide the world with scientific data on the rate at which global warming affects the ice sheets."
It's made her even more grateful to live in environmentally conscious Lawrence.
Hyland was responsible for managing and designing SMA's children's art and appreciation program for K-12 and is particularly proud of the Museum's Saturday program It Starts with Art.
"I feel it's important for children to have opportunities to work with their hands and get the feeling of creating and accomplishing something," she says.
"The insights children and teens bring to art work in general and the Museum in particular is radically fresh and honest."
Hyland returns to Wexford for an annual month-long visit but loves her Lawrence life.
"It's a community with a great downtown, local food, art and music scenes, older neighborhoods with wonderful neighbors," she says. "It's a wonderful place to bring up a child."
Copyright 2018 The Lawrence Journal-World. All rights reserved. This material may not be published, broadcast, rewritten or redistributed. We strive to uphold our values for every story published.