Frank Wright of Lawrence became the presiding chieftain May 21 of the Tribe of Mic-O-Say, a Boy Scout honor camping society at the H. Roe Bartle Scout Reservation. As presiding chieftain, Wright will preside at all Brave and Warrior ceremonies during each of six camping sessions this summer at Camp Bartle. Wright is the first chieftain to be selected from Pelathe District, which encompasses the Douglas County area.
Wright has extensive service as an adult Scout leader, serving as a cubmaster at Quail Run School, advancement chairman for Troop 59 at First Presbyterian Church and several district committee positions. He is currently district chairman for Pelathe District. Wright also chaired the Heart of America Council's national jamboree committee, which sent 160 area Scouts to the 100th Anniversary National Jamboree in the summer of 2010. Frank has camped with Troop 59 for 10 days each summer at Camp Bartle for 19 years straight. In recognition of that service to scouting, he was named a Sachem in the Tribe of Mic-O-Say in 2005, which placed him on the Tribe's governing council. In 2010, he was named a Keeper of the Wampum and now has been named presiding chieftain of the Tribe.
He is married to Kim Wright. They have two sons, Geoff and Jordan, both of whom earned their Eagle Scout Award with Troop 59. Both sons are also members of the Tribe of Mic-O-Say and were present at camp for their father's elevation to presiding chieftain.
Liam Inbody, son of Mark and Dace Inbody, became Pelathe and Troop 59's newest Eagle Scout June 16.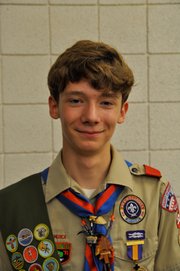 The troop will be attending the Northern Tier High Adventure Base from June 17 through Sunday. Inbody, who turned 16 in May, is a junior at Free State High School. He is a Brotherhood member of the Order of the Arrow and Warrior in the Tribe of Mic-O-Say. He has earned his religious emblem through the University Community of Christ Church. After being home-schooled through elementary school, he attended Central Junior High School, where he earned the Mustang Citizen Award as a ninth-grader. Inbody wanted to give back to CJHS, so for his project he built a table for 20, which teachers use as an outdoor classroom.
Boy Scout Troop 61, chartered by St. Luke AME Church of Lawrence, went to Camp Geiger June 12-18 in St. Joseph, Mo. Many of the boys completed merit badges, and they competed in a contest for cleanest campsite. Troop leader Jarrod Mann and Boy Scouts Matt Pribbenow, Drew Sheppard and Dakota Zinn were all tapped into Mic-O-Say. Kardel Hart and Ian Archer completed the mile-swim. Scouts who attended were Ian Archer, Alex Dokter, Sam Goodwin, George Haff, Kardel Hart, Anthony Hummell, Jae Young Im, Joe Mann, Matt Pribbenow, Drew Sheppard, James Taylor and Dakota Zinn and troop leaders Rod Zinn, Jarrod Mann and Pat Donahue.
Troop 53 held its summer campout June 17-19 at Dunlop's. Scouts fished and swam in the pond. They also canoed and sailed and practiced canoe safety. Scouts attending were Kyle Abrahamson, David Balmilero, Brett Carey, Dylan Edwinson, Carson Gilliland, Ethan Kallenberger, Tyler MacMurray, Brian Morris, Sean Morris, Aidan Schaplowsky, Evan Schoenen, Milo Schoenen, Justin Siler, Matthew Siler, Ross Chumbley, Kyle Trompeter, Devin Van Schmus and Anthony Van Schmus.
Copyright 2018 The Lawrence Journal-World. All rights reserved. This material may not be published, broadcast, rewritten or redistributed. We strive to uphold our values for every story published.