'Common sense' guide to enforcement
Look ahead to June 30. Imagine you're cruising along the Kansas Turnpike at 75 mph — just like the new speed limit sign off the shoulder says — but you recall that the law allowing drivers to go 75 mph won't be taking effect until the next day.
Can I get a ticket?
Relax and get your eyes back on the road.
"We're going to use common sense, and use discretion," said Technical Trooper Mark Engholm, a spokesman for the Kansas Highway Patrol, which will be enforcing the new limits. "We're not going to enforce a speed limit that's not posted."
Maintenance crews will be out installing new signs before the law takes effect, he said, and troopers are being advised to take that into account during their enforcement efforts. The advance installations are intended to ensure that all signs will be in place for travelers during the busy holiday weekend.
"We'll work with the public to make sure roads are safe," Engholm said.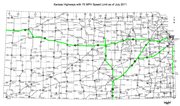 Boosting speed limits on more than 800 miles of state and federal highways to 75 mph likely will reduce the number of tickets issued, at least during the next few months, the Kansas Highway Patrol says.
But don't expect drivers to stay off the accelerators for long.
"Based on our experience in the past, when the speed limit is increased we see a time period of adjustment where traffic actually is moving slower than the posted limit," said Technical Trooper Mark Engholm, a patrol spokesman. "It's their comfort level.
"We'll have to wait six months, maybe a year, to see what effect this has. It's new territory. We'll see what happens."
The clock starts ticking on Thursday, when crews from the Kansas Department of Transportation begin riveting 276 metal plates — each featuring a fresh new "75" — onto existing 70 mph signs along 583 miles of state and federal highways being adjusted.
The Kansas Turnpike Authority, meanwhile, will begin affixing new 5s over 0s that same day on 90 signs along a 224-mile stretch of the turnpike, from the Oklahoma border all the way to the Kansas Highway 7 interchange at Bonner Springs.
The stretch includes about seven miles cutting through the Lawrence area, carrying an average of more than 28,000 vehicles per day.
Michael Johnston, the turnpike's CEO, doesn't expect driver speeds to increase dramatically, but the authority is conducted speed studies now at a handful of sites along the turnpike. Studies will be repeated this fall, to provide comparison data about drivers' comfort levels.
Johnston, for one, figures the so-called "85th percentile" speed — the speed at which 85 percent of drivers are traveling at or below — might rise by 2 or 3 miles per hour in areas with the new 75 mph limit. That's the speed, according to engineers, that drivers feel comfortable traveling.
"I drive a certain speed on the turnpike, and I'm not going to increase my speed at all," Johnston said.
The new speed limit will go into effect in Kansas on 807 miles of state and federal highways, including the turnpike. That's less than 10 percent of the nearly 10,000 miles of highways and freeways running throughout the state, a total system in which the Kansas Highway Patrol wrote 65,847 speeding tickets and issued 71,741 warnings for speeding.
For illustration's sake, the patrol would need to write 234 additional tickets — each with a $45 fine for going up to 10 mph over the posted speed limit, not including court costs — to cover the state's added expense for updating signs. Not that the patrol worries about the revenue side.
Legislators didn't allocate additional money to change the signs, but the Kansas Department of Transportation isn't complaining.
"They did authorize a new program again last year," said Steve Swartz, a department spokesman, referring to the $8 billion T-Works program that will finance projects for the next 10 years, "so we're happy with that."
Copyright 2018 The Lawrence Journal-World. All rights reserved. This material may not be published, broadcast, rewritten or redistributed. We strive to uphold our values for every story published.