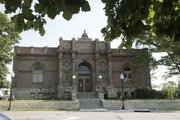 For history lovers, this might even be better than Independence Day fireworks.
Leaders of the Freedom's Frontier National Heritage Area are planning a July 2 event that will unveil and dedicate a new $200,000 history exhibit in the refurbished Carnegie Library building in downtown.
"It has been a really big project, and we're thrilled to be at this point," said Judy Billings, director of the organization that oversees the heritage area.
From 10 a.m. to 2 p.m. on July 2, members of the public can be among the first to see a new exhibit that highlights how the region has shaped America's freedoms. The exhibit includes pieces about the tensions in Missouri and Kansas that led up to the Civil War, about Langston Hughes and other minorities that struggled for civil rights, about the landmark desegregation case Brown vs. the Board of Education and several other events.
"I hope this helps remind people how important this area has been in the development of the country," Billings said. "And I also hope it makes them want to travel throughout the area."
The exhibit — along with a smaller one focusing on the Kansas-Nebraska Act — will be open on a regular basis. Plans call for the exhibit space to be open from 10 a.m. to 4 p.m. Wednesdays through Saturdays, and from 1 p.m. to 4 p.m. on Sundays. There will be no admission to view the exhibits.
The exhibit has several items directly related to events that happened in or near Lawrence, but the gallery also is meant to serve as an introduction for the entire heritage area — which includes 41 counties in eastern Kansas and western Missouri.
From 6:30 p.m. to 8:30 p.m. on July 2, a more formal grand opening event will be held at the Carnegie. Tickets — $30 for one adult or $50 for a couple — are required. The event will include food, drink, readings of Langston Hughes' work, and an actor portraying Charles Robinson, the first governor of Kansas. Tickets can be purchased at the Lawrence Convention and Visitors Bureau.
The opening marks a milestone for the heritage area. Billings, former U.S. Appeals Court Judge Deanell Tacha and several other area residents began working more than five years ago to get Congress to recognize the region as a national heritage area.
In addition to housing the exhibits, the Carnegie also serves as the headquarters for the heritage area. City commissioners — with help of a federal grant — spent about $1.5 million to add new restrooms, elevators and to refurbish the early 20th Century building. Commissioners also spent $200,000 of guest tax money to pay for the building's main exhibit.
Billings said her group will now start advertising the exhibit and the heritage area in regional and national publications, especially those that focus on Civil War history.
"Many people who are interested in the Civil War really don't know much about what happened leading up to the war," Billings said. "I think there will be great interest from those type of travelers who will want to make a trip out here."
Copyright 2018 The Lawrence Journal-World. All rights reserved. This material may not be published, broadcast, rewritten or redistributed. We strive to uphold our values for every story published.