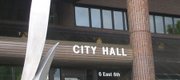 Subscribe to the email edition of Town Talk and we'll deliver you the latest city news and notes every weekday at noon.
News and notes from around town:
• So, is Lowe's really going to build a store on the vacant lot west of Wal-Mart at Sixth Street and Wakarusa Drive? I've been hearing that question more frequently of late. I reported that possibility a few weeks ago, and have been looking for a set of official plans to get filed at City Hall. Monday was a deadline day for such plans. If Lowe's wanted to get on the Planning Commission's August agenda, Monday was the deadline for submittal. No plans were submitted, but in talking with some people who have knowledge of the discussions, I was told that Lowe's is still very much interested in the site but didn't yet have all plans in order. It will be interesting to watch the reaction out of City Hall, if plans are filed. The city's comprehensive plan doesn't call for the area west of Wal-Mart site to be the home of a big box store. That will be a big deal to planners, and might be to some neighbors. But, it could be politically tough for city commissioners to say no to Lowe's a second time. Here's a company that wants to invest dollars in the community, pay sales taxes and pay property taxes in a local economy that has had its struggles. My understanding is that Lowe's won't be asking for any special taxing districts as part of this plan, which should help it at City Hall. So, nothing really new to report, but interest in the topic is high.
• If Lowe's doesn't locate in the area, disappointed do-it-yourselfers will have a new place to commiserate, anyway. Longtime Lawrence tavern owner Brad Ziegler will open Six Mile Tavern in the space adjacent to the new Famous Dave's BBQ at Sixth and Wakarusa. He hopes to have the tavern open by July 14. He told me that it will have an English pub feel to it, but its name is all Kansas. The tavern takes its inspiration from Six Mile House. History says that is where members of the unofficial military brigade the Kansas Red Legs met in secret to plan their defense strategy against the damn Missourians. The house was such named because it was six miles from Wyandotte on Leavenworth Road. There's an interesting article about it here. Ziegler's Six Mile House presumably won't be home to a secret military organization. But I suspect cussing Missourians will be allowed. At least, I hope so. The tavern also won't have a kitchen, but has worked out a deal for Famous Dave's BBQ to be served in the business. Ziegler said there will be a pass through window to make ordering convenient.
• Viewers of Tuesday night's city commission meeting witnessed the birth of another city task force. As we reported, commissioners agreed to appoint a new task force to study downtown issues — particularly downtown vacancy rates and the decline in the number of retail businesses downtown. The group will have some numbers to work with. The city's planning department recently updated its numbers for downtown. Here's what it found:
13 percent of downtown's commercial space was vacant as of May. That's up from 9 percent in 2010 and 11 percent in 2006.
20 percent of downtown's commercial space is occupied by retailers. That's down from 23 percent in 2010 and 27 percent in 2006.
15 percent of downtown's commercial space is occupied by restaurants and other food service businesses. That's unchanged from 2010, and perhaps surprisingly, is up only 1 percent from 2006.
But those numbers only tell part of the story. Planning staff also looked at the number of retail establishments in downtown. In 2011 there were 114. That's down from 120 in 2010 and 126 in 2006. Food service businesses numbered 82 in 2011, up from 79 in 2010 and 68 in 2006.
A key point to remember is that the square footage of downtown has grown since 2006. Then there was 1.4 million square feet of commercial space downtown. Now, there is 1.58 million square feet. That's why the percentage of square feet vs. the actual number of establishments looks a little different. Square feet also will increase for 2012, as the multi-story building at Ninth and New Hampshire is completed.
If you are still confused, take heart. We'll have a task force to figure it out. We'll let you know who gets appointed to it.
Copyright 2018 The Lawrence Journal-World. All rights reserved. This material may not be published, broadcast, rewritten or redistributed. We strive to uphold our values for every story published.