On the street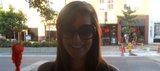 I took a bug collecting class when I was little.
Across Kansas University, some schools and departments reported slightly lower numbers of students signing up for summer classes, though official figures won't be available until later in the year.
The university touts summer courses as an option for students looking to free up valuable time during the spring and fall semesters or knock out the last few requirements for a degree.
Students in the College of Liberal Arts and Sciences may take a maximum of 10 hours of class during the summer, but can petition to take up to 12.
Jill Jess, a KU spokeswoman, said that universitywide enrollment numbers won't be released until the end of the summer term, on July 29, because students are adding and dropping classes during the short summer term.
"The numbers aren't finalized," she said.
Though formal data weren't available in many cases, several departments and schools offered some general assessments of their summer enrollments:
• Keith Diaz Moore, associate dean in the School of Architecture, Design and Planning, said that this summer enrollment at the school was about 240 students, which is "slightly down, but certainly within 5 to 10 percent" of last year's totals.
• Ann Brill, dean of the KU School of Journalism and Mass Communications, said that, in general, fewer students were taking courses in person on the Lawrence campus, but enrollments in online classes and at the Edwards campus were holding steady.
• Anna Neill, associate chairwoman of the English department, reported that 358 students were enrolled in English classes, which was down from 403 in 2010, but more than the 342 students who took summer classes in 2009.
• Cody Howard, communications coordinator for the KU School of Engineering, said that unofficial tallies show 415 undergraduates enrolled in summer classes, up from 398 last year.
Meanwhile, 327 graduate students were taking classes in the school, down from 354 students last year.
Many of the undergraduate course offerings are related to independent study or honors programs, he said, as the curricula for the engineering and computer science programs are very structured.
Graduate students, as well, often take courses that allow them to conduct research on a topic of interest, he said.
Copyright 2018 The Lawrence Journal-World. All rights reserved. This material may not be published, broadcast, rewritten or redistributed. We strive to uphold our values for every story published.